U.S. COAST GUARD
SHIPS
CLOCK
Naval Observatory Date: Feb
1930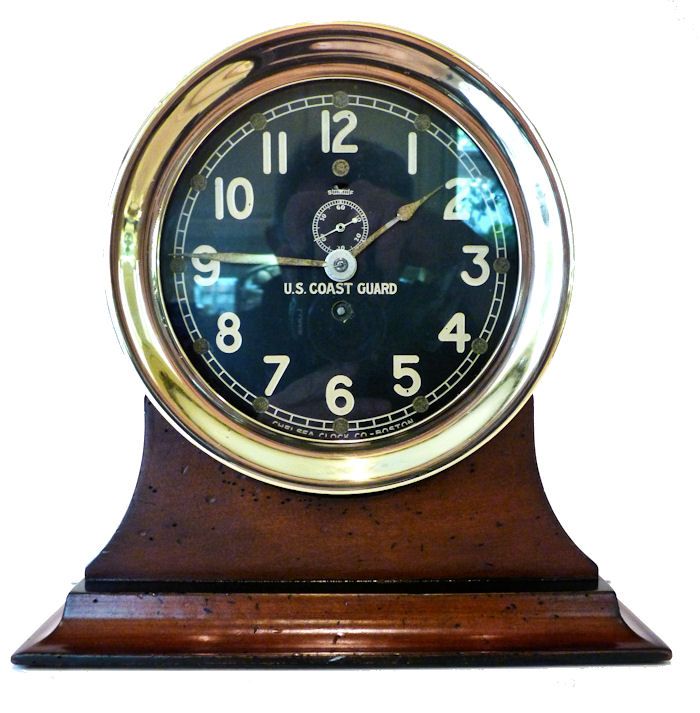 Stand Included a $75.00
Value
A classic U.S.C.G.  pre WW
II ships clock which keeps excellent time, and is
in refinished condition all around!


Ca 1930
11 Jewel 8 Day Movement    6 inch dial      Forged
Bronze
Case     Exceptional
condition

Presented
is an original Chelsea U.S.Coast Guard owned
by a former Coastie for the last 49 years, which accounts
for it's exceptional condition. When in service, it
was bulkhead mounted on a ship's bridge, quarter deck, or
in a wardroom. It
has a 6
inch black over brass dial with a 5
1/2 viewing area, and heavy forged brass case of pre World War II vintage.
It is the standard deck clock
case of that
era. The spade hands are buff white with a sweep second hand. A lever type fast/slow regulatoris below the 12 position which is marked for black-out recognition
by an additional round dot under
and similar dots below each numeral.
There radium paint, which was found to
be radio active, has been
removed.
It is
fitted with a screw on bezel and
the forged brass case is highly polished and
lacquered. The movement is a 11-jeweled, 8 day
time-only movement, with a lever type regulator.
It is running well keeping  time with a quartz
comparison watch. "Chelsea Clock Company,
Boston.", is acid-etched below the 6
o'clock position. "U.S. Coast Guard" is below
the center arbor. The back of the case is marked
with the maker's name and a later number. The antique
reproduction stand is included.The clock's serial
number is 185XXX. and dates from February,
1930. The complete serial number
will be furnished the new owner.


Maritime and military
clocks were made to the exacting specifications
established jointly by the Navy and the U.S. Naval
Observatory.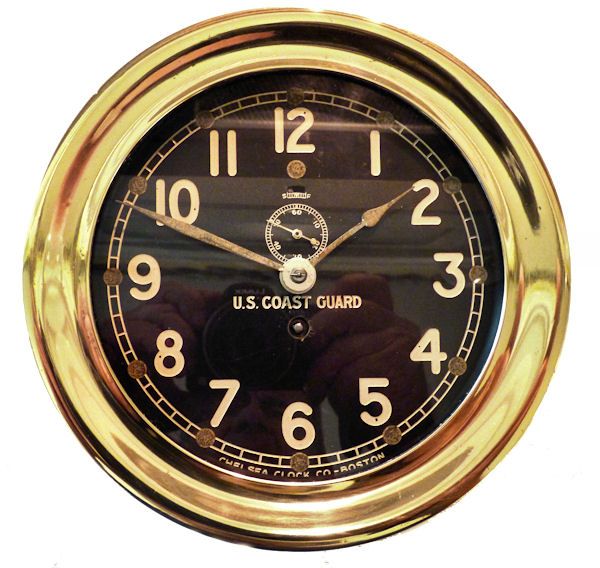 DIMENSIONS:











6″  Diameter of
Dial                           

Depth

2 1/2″

7 1/4″
Full
Diameter

Weight 5 1/2
lbs

CONDITION:  The case has
been polished and lacquered. The movement is clean and
bright. The number on the case and the movement do

not match. It keeps excellent time compared
to a quartz watch. A Chelsea key is
included.




DIMENSIONS:










 Diameter of
Dial

  6″             
Depth 2
1/2″
Full Diameter
7
1/4″

Weight 5 1/2
lbs

      
Bright and shiny movement dates to Feb,
1930
                             Great
looking
from any
angle


      
Antique reproduced stand is
included