Skip to content
RARE BISHOP & BABCOCK
No. 18  SHALLOW WATER 
AIR PUMP Ca 1900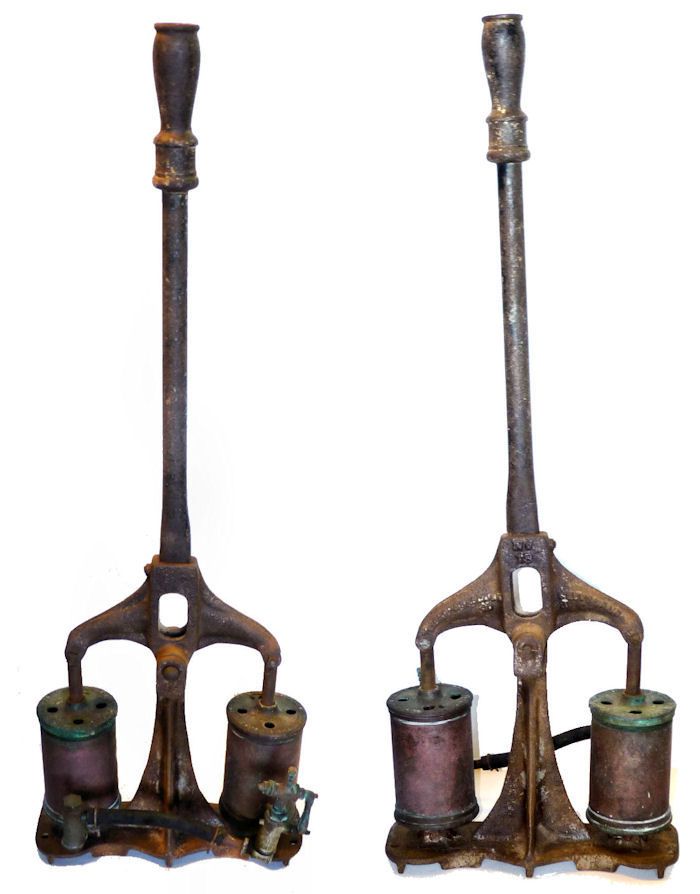 Construction Iron & brass
Made Early 20th Century


Overall
Dimension Pump 36" H x 12 1/2" W x 6 1/2" D
Single Cylinder   6 1/4" H x 3 3/4" Dia
Lever 21" L  x 1" D                                                                          Markings The
Bishop & Babcock Co.
Weight 25 1/2 lbs                                            
Cleveland, O. No. 18

Presented is a rare example of a shallow water dive pump made by the Bishop & Babcock Co. of
Cleveland, Ohio a company that was primarily known as a manufacturer of beer dispensing equipment. This example closely follows
the industry standard for a shallow water pump in design and dimensions, but has an appearance that only comes with age.This style pump was used primarily with the Miller-Dunn Style 1
and Style 2 "Divinhood" and Morse 15 dive helmets. 

The hand operated shallow water diving
pump was operated by a single person and was used in no more than thirty feet of water or one atmosphere of pressure. The cylinders
have pistons which have leather washers which provide a flow of air to the diver when the lever is exercised in
each direction. All the parts are made of iron except the caps to the cylinders and the air fittings. The metal
work on this pump has darkened with age and given it a very interesting appearance. If the pump is intended
for use, it must be inspected, and rebuilt by a dive shop which will certify it ready for service.

The pump is being sold for display only and should be sent to a dive shop
for certification..


                      

   All the valves and fittings are present. The fittings are brass

BRIEF HISTORY OF BISHOP & BABCOCK CO.: This
Cleveland, Ohio company  had their beginning as the Cleveland Faucet company
in the late 1800's. They were best known as a beer equipment maker and there is no record of them making diving equipment.
However, many of their products were pumps for dispensing beer such as bar beer pumps, hand air pumps, and carbonic beer pumps.
Their diversity is shown by an automotive division starting in 1915 which developed a heater/air conditioner in 1939 which
was sold to the Packard Motor Company in 1946.

| | |
| --- | --- |
| | Bishop.Babcock. Cleveland, O.  |

CONDITION and MARKINGS:   Its appearance shows
it has not been used in years. There are special hose connectors fitted to the cylinders which are complete.
We have rocked the handle back and forth, but no air pressure comes out of the supply side. This indicates the leather washers need
to be replaced and other parts may need to be rebuilt. The pump is marked on the cross beam  No. 18, and on the
beam and cylinder heads in relief, The Bishop & Babcock Co. Cleveland, O.  The entire pump is made of iron except
the top and bottom cover of the cylinders and parts of the fittings.

It is being offered as a display item only,
and should not be used for any other purpose unless certified by a competent diving shop.
PROVENANCE:
These parts come from a massive and eclectic collection of nautical antiques that included fine examples of rare antique
navigation instruments, a collection of French Prisoner of War models, numerous scrimshaw, log books, charts, and marine relics
and a 1943 Morse Navy MK V helmet which has been sold. They were acquired by a professor of oceanography, with a love of all
things nautical, over many years, and were last located in Hawaii which was his residence at the time he passed. The helmet
was estimated to have been in the collection for at least the last 30 years.  
A great addition to a dive collection or after a rebuild
to be put back in service after inspection by a certified dive shop.
                       The cross arm is marked No. 18 and with the company name
and location

SHIPPING
, INSURANCE & PACKING: Because of its size and weight, shipping will have to be figured from
point to point since the carrier will charged it by dimensional weight. 

OUR UNCONDITIONAL
NO NONSENSE GUARANTEE:If not completely satisfied with your purchase it may be returned, if without damage, within five
days of receipt in its original packaging. Return items must be insured for their full value. Only a prior email authorization
by us for the return is required. Shipping charges are  included in this offer within the continental United States
if the error is due to our fault. 

STANDARD FORMS
OF PAYMENT are Bank wire transfer, cashier's
check, money order, or personal check in which case the item will be held until cleared. Our prices are quoted net to us so that the use of credit cards or PayPal incur extra
charges. Terms on overseas sales may be different. 


Copyright 2013 by Land And Sea Collection™, All Rights Reserved
To view our current inventory of vintage dive helmets and dive gear, click here!