PRESENTATION CARVED DOLPHIN BASE
DOLLOND ANEROID BAROMETER 1875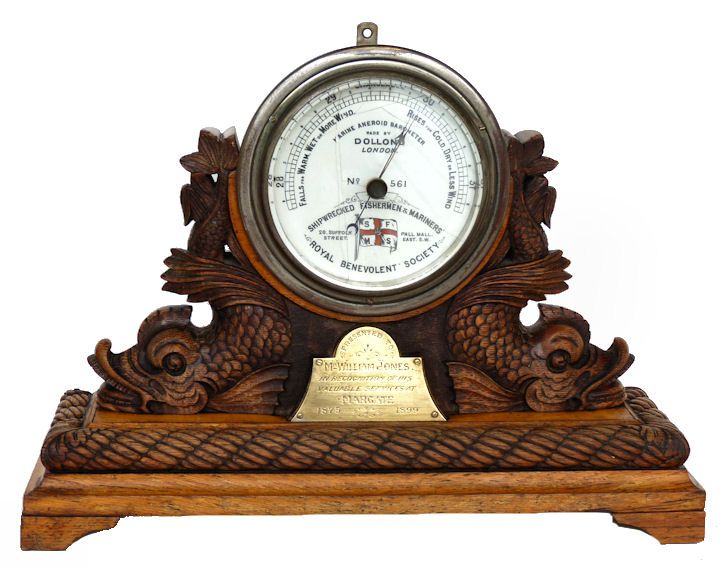 Shipwrecked Fisherman
& Mariners
Royal Benevolent Society
SIZE:
15 1/4 L x 4 1/4 D x 12 1/2H
WEIGHT:   6 Lbs. 8 oz.
PRESENTED is an unusual presentation aneroid barometer housed in a elegant hand carved Oak and Mahogany base with twin
dolphins flanking. It was made by Dolland of London for the Royal Benevolent Society in behalf of Shipwrecked Fisherman
& Mariners, and was awarded to  William Jones for service at MARGATE, 1875 – 189,9 as engraved on the central
brass plate in Copperplate Gothic block letters.
The porcelain 5 inch dial is imprinted with the maker's name, marine aneroidbarometer and the Royal Benevolent Society's house flag, address andshipwrecked mariner's name. The dial has numerous hairline age cracks that have been previously repaired. The instrument has its original beveled crystal lens, blued moon and arrow center pointer, with a second movable brass pointer for watching the
changes take place. There is a plate on the top and bottom of the nickel plated cartridge brass case for wall hanging.
As the barometer is not working properly, this fine commorative should be acquired and
appreciated for its historical value.
CARVED DOLPHIN BASE:
The stylized dolphins are deeply incised and are stained Mahogany along with a
three strand rope design along its border, while the stand, with its over their golden stained
base, contrasts nicely . The back of the carving is finished entirely in the light
golden tone. The dolphins  are reminiscent of a U.S. Naval submariner's qualification device adopted in 1924,
and may have been known to then Captain Earnest J. King, later Fleet Admiral and Chief of Naval Operations in WW II, who recommended its adoption.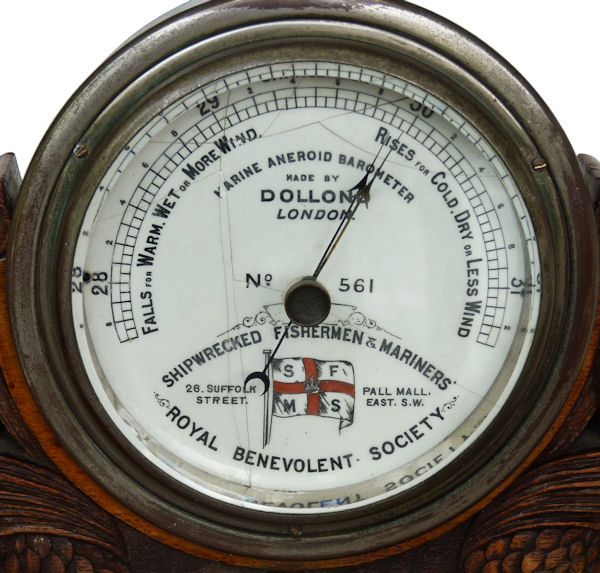 Porcelain face has hairline
cracks
Price:  $1000.00         Shipping:  $55.00
Sale Price:  $500.00
COMPANY HISTORY in BRIEF:On 21 April 1750, Peter Dollond opened a small optical business in Vine Street, near Hatton Garden in London. He
was joined by his father John Dollond in 1752. The Dollonds became quite famous for the quality of their optical products. In 1768, John
Dollond, now a partner in business, was appointed optician to King George III and the Duke of York. In 1781, Peter Dollond made bifocal
spectacles. At the Great Exhibition 1851 in London, Dollonds were awarded a medal for the excellence of their optical
instruments.John Dollond was the son of a Huguenot refugee, a silk-weaver at Spitalfields, London, where he was born. He
followed his father's trade, but found time to acquire a knowledge of Latin, Greek, mathematics, physics, anatomy and other subjects.
In 1752, he abandoned silk-weaving and joined his eldest son, Peter Dollond (1730–1820), who in 1750 had started in business as a maker
of optical instruments. His reputation grew rapidly, and in 176,1 he was appointed optician to the king.
| | |
| --- | --- |
| | |
Three quarter view of
front
Close-up of left
dolphins
Back of Dolland presentation twin dolphin barometer                                                   Presentation Plate of Williasm Jones at Margate
In 1758 he published an "Account of some experiments concerning the different refrangibility of light" describing the experimentsthat led him to the achievement with which his name is specially associated, the discovery of a means of constructing achromatic
lenses by the combination of crown and flint glasses, which reduces chromatic aberration (color defects). Leonhard Euler in 1747 had
suggested that achromatism might be obtained by the combination of glass and water lenses. Early
in 1757 he succeeded in producing refraction without color by the aid of glass and water lenses, and a few months later he made a
successful attempt to get the same result by a combination of glasses of different qualities.  For this achievement the Royal
Society awarded him the Copley Medal in 1758, and three years later elected him one of its fellows. Dollond also published two papers on
apparatus for measuring small angles.When John Dollond died in 1761, Peter Dollond started working with
his nephew, George Huggins, who changed his name to Dollond. George Dollond, born in 1774, had both his uncle's mechanical skill and his
grandfather's grasp of theory. He built numerous precision astronomical instruments with exacting attention to detail. He also
invented an "atmospheric recorder" by which continuous measurements of temperature, wind, rainfall, humidity, pressure and other weather data were printed on rolls of paper. After Peter Dollond died in 1820, George Dollond ran the family business until his own death, on
13 May 1852. Management then transfered to the Aitchison side of the business which survives to this day as optomitrists..