NAVAL OR MARITIME
RETIREMENT ORNAMENT OR CENTERPIECE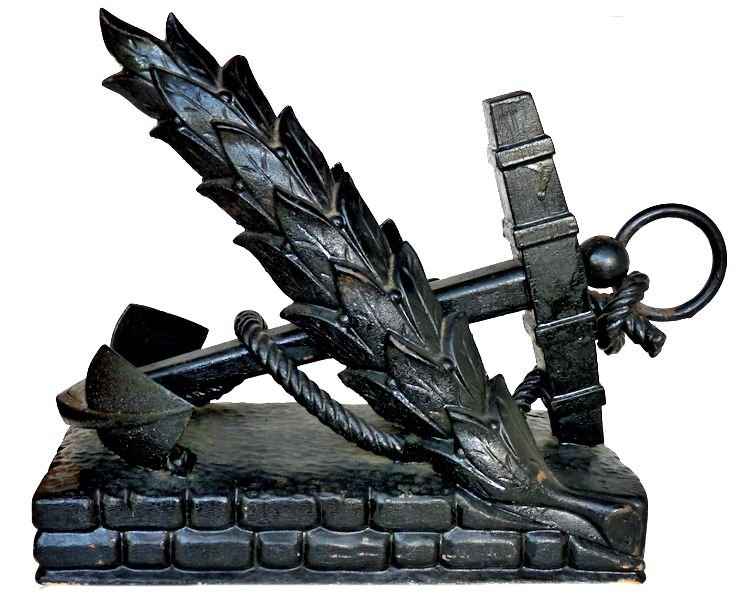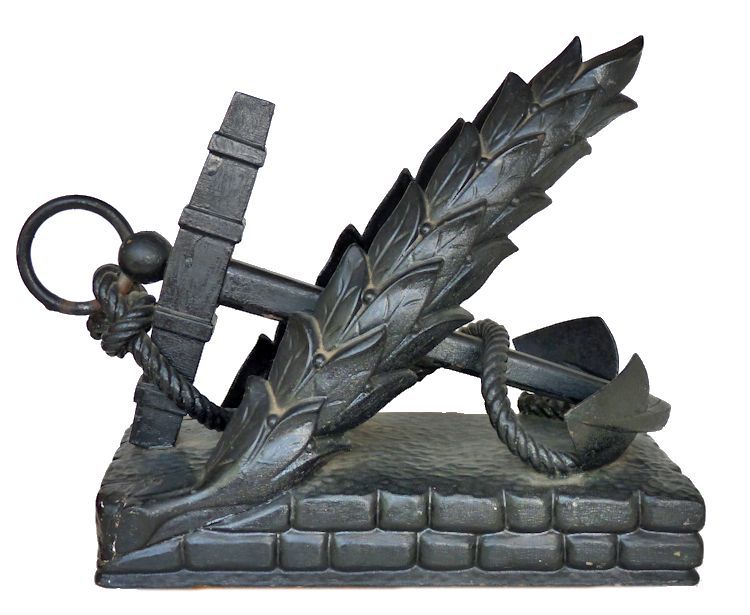 DIMENSIONS:  15″ H x 19
1/2″ W x 8
1/2″
D
Weight 13 lbs.
Originally conceived to
celebrate the retirement of
a Naval or Merchant Marine officer it was intended as an architectural ornament
to be placed as a capstone on a
brick column at the entry to his house. This Naval and Maritime ornament
is now being offered as a Retirement Gift or to enhance an
interior as a centerpiece with a
nautical flair
Presented is an

intricately made display of a 19th Century style fouled anchor
flanked by a foliate garland in which the iron anchor rests on a base of
grass surrounded by bricks. These items typically describe the
retirement of a seafarer and his moving ashore for good.

="font-size:>


The work
is from the early 20th Century, and is
artistically made of metal, wood and rope painted Mid-Night black. It personifies the term "to Swallow the Anchor"
which means to retire from the sea and settle down.

Consequently, we believe that
it was originally intended to celebrate the retirement of a Merchant or
Naval officer and was made to sit on top of a brick
column marking the corner of the walk way to his house. With the angle iron removed, it now can be used as
a retirement gift and easily personalized with an engraved plaque to be used
as an ornament and placed on any large piece of
furniture.

Reference: The Oxford Companion to Ships and
the Sea; 'swallow the anchor, to', a nautical term meaning to retire from sea life and settle down
…
from the right
front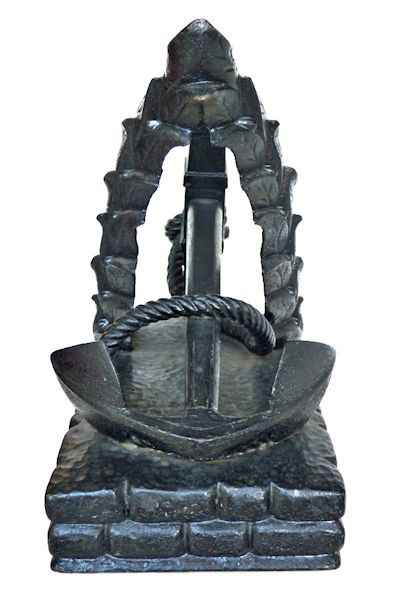 Side
view of anchor showing
flukes
  Side view showing stock
="center">
CONDITION:

There are
the normal small marks of handling, but
nothing of significance. The rusty iron metal frame that was mounted on
the base has been removed along with its six screws, but will
accompany the
item.