JOHN BLISS MUSHROOM STYLE BINNACLE
MID 19TH CA
This is only the second John Bliss Mushroom style yachtbinnacle we have had in seven years.
It is in pristine condition
and with a solid American
pedigree.
Height on base 12 1/2″ H x 14″ W x 12″D
Oval viewing port 7″ x 5″
Weight 16 pounds
Presented is a Mid 19th Century twin burner binnacle compass which is housed in
a heavy duty and elegant mushroom style case. The bezel of the compass is stamped
with the serial number 348 and the compass card is imprinted, John Bliss & Co., New
York. Because of the very low serial number,, we date this binnacle to shortly after October, 1857
when the company's name was changed to this form. The cap on the top is engraved in Copperplate
Script on two lines, John Bliss & Co., New York.
THE
BINNACLE
The binnacle is a classic, but rarely seen, mushroom design whichwas popular in the Royal Navy and in the more
important yachts of the Mid 1800's. This one, because of its size, was made for a sailboat or tender to a much larger
yacht. The  wall thickness of the lower section is 1/8inch thick, something you don't see
anymore and is evidence of its high quality construction.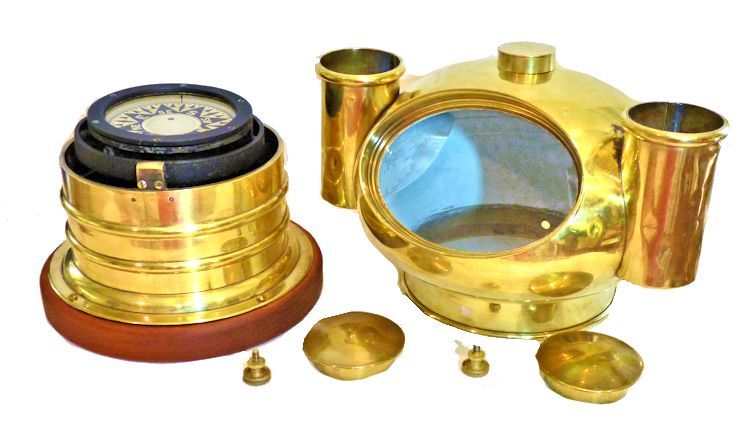 THE COMPASS:
Is housed in a heavy brass bowl and is liquid filled.  It features a very old style card with a stylish
Fleur dis Lis marking North, and with directions marked in points of the compass where
one point equals 1/4 degrees. Cards with degrees weren't introduced until the Turn of the
20th Century which is 50 years into the future.
The
compass is viewed though the 5 x 7″ elliptical glass port
with a rolled metal rim . Twin lamp burner towers
with caps are on each side
of the "helmet", but the burners have gone
missing.
COMPASS SIZE: Diameter of bowl 5
1/4″
Diameter
of card
4″
This is a very rare and important
mushroom style binnacle that dates back to Ca 1857. It was made
by a pedigreed American
instrument maker.


THE COMPASS NOTATIONS:
North is identified with a
fancy Fleur des Lis,
and has John Bliss & Co., New York
imprinted around the center point. The outer ring of the compass card is graduated compass points. The larger subdivisions are in
Cardinal Points, N.S,E,W, and quarter points, NE,SE,SW,NW, then 1/2 points, 1/8 points and finally 1/16 points.
There are 32 points on the compass card, each being 11  1/4 degrees.
CONDITION:
This beautifully made antique binnacle is of all
brass construction shows small dents on its top, and twin towers and minor marks asevidence of
its use at sea. Otherwise, its condition is exception althrough out. All surfaces have been recently polished
and lacquered a nice golden patina. The compass works properly.
            Left
oblique front
view of
case
 left
oblique back view of
case
HISTORY JOHN BLISS &
Co.: John
Bliss, Sr. was born in Norwich, CT in 1795, and died in
Brooklyn, NY on October 15, 1857. He apprenticed to his uncle,
Benjamin Lord in Rutland, VT as a silversmith and clock maker, and
later moved to New York City as a jeweler around 1830.
In 1834 he went into
partnership with Fredrick Creighton, an English watchmaker at 42
Fulton St. for the making of chronometers under the name, Bliss
& Creighton. They were one of the few in this country who
made chronometers from scratch and also patented a new
escapement which reduced chronometer error. However, the
partnership did not last, and they went their separate ways in
1853.
John Bliss then joined with
his son John, Jr., establishing the firm John Bliss & Son in
1855. When John Bliss, Sr. died in 1857, and the name of the
company was changed to John Bliss & Co., which endured for 100
years.
The Bliss firm was a noted purveyor and repair
shop for nautical instruments of all kinds. On August
4, 1871, Bliss purchased the famous E. & G.W. Blunt &
Co. whose operations as a seller of nautical instruments dates
from 1821 in New York.  Blunt was also noted for publishing a
Nautical Almanac staring in 1850. The company also continued their own
made chronometer business. They were at various locations in lower Manhattan
and ended up at 84 Pearl St. from 1929 to
1956, when that building was sold and they
were forced to go out of business.
The famous Schooner yacht
Intrepid, owned by Lloyd Phoenix, Vice Commodore of the New
York Yacht Club in 1903, was fitted with a John Bliss
compass.