U.S. Unlimited Master's – 5 plus
STARS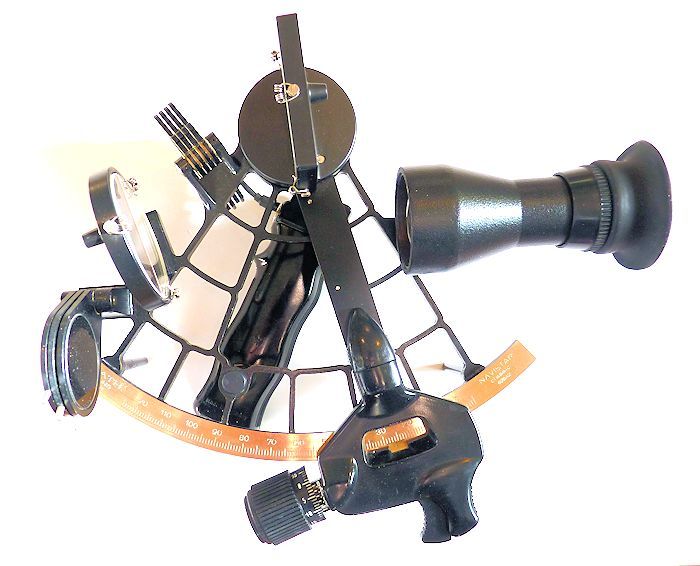 We are the premier
source for all versions of the Plath Navistar premium sextants
and have sold more than any other dealer in the world! The
pictures in this presentation are all of the actual
instrument.
Presented

is a C.
Plath Navistar Classic sextant, Serial No.62542, with
undated matching certificate. The certificate for the accompanying Plath 6 x 30 Sun scope
is dated 12/21/83. Both were purchased at 
George Butler's in San Francisco, by the young third mate who was to use this
instrument thought his 33 year U.S. Merchant
Marine career. He felt that the customary hardwood
case was not suitable for a life at sea, so he substituted a
Pelican style phenolic case with foam liner.
The former owner, now a retired, U.S.
Merchant Marine Unlimited Master, says "this sextant has
navigated all over the world and that the Navistar
Classic is hard to beat when taking sights in a gale, and
that it's quality is unmatched by other
makes".  Remarkably, we were impressed on
inspecting it and taking some practice sights, that even
with all it's sea time, the sextant and both scopes
are in excellent, "Like New"
condition.

Back in the early days of satellite navigation,
there were only six satellites in space so the fix
interval could be quite long, averaging 12-14 hours between
them. This system was called SatNav and was the predecessor
to GPS. When its use was opened to commercial
shipping in the early 1980's, the most
economical and useful receiver was made by Magnavox. It was
called the MX 4102. It was widely accepted and his ship
had one. He writes about one experience.
A NAVIGATOR'S STORY:

"In 1984,
I was sailing as second mate on a loaded tanker sailing
from Cristobal, Panama to Houston, TX.  SATNAV
units were just becoming available on
commercial ships.  We had a Magnavox 4102 unit, that unlike
today, would only occasionally get a fix.  Sometimes
it would be 12 hours or more before a fix.
That
fix was of dubious quality due to the few
number of satellites used to determine position, so
the fix was always plotted with
suspicion.
When
navigating outside of pilotage waters, we used
dead reckoning, celestial sights, fathometer soundings as
well as electronic navigation.  In the 1980's that
included Loran-C and RDF.  Loran-C was good, but in
many areas, the coverage was of not so
great. One
such area was in the Caribbean, east of Nicaragua.
This area of full of shoals with such names as Misteriosa
Bank, Rosalind Bank and Thunder Knoll.  The Captain
would always be on the bridge well before entering this
area to ensure that our position was
accurate. Besides spotty
LORAN coverage, this
area has very strong currents with extensive shoal areas
where the ship could run aground.  That being
the case, prior to entering these  waters, anxiety
about an accurate position was always high. Our main
concern was to have an accurate position entering the
channel east of Gorda Bank, which would take us up past
Thunder Knoll.

I was able to get a very good AM star
position the morning we would be entering shoal
waters.  The star scope on the C-Plath is tough to
beat and I really felt good about our position. I plotted
our position with a somewhat anxious Captain looking over
my shoulder. The LORAN unit was acting up so
we did not feel great about its accuracy.  The MX 4102
was "still cooking", our term to mean it was waiting to
get a fix.

 
The Captain,
being of WW 2 vintage and being of what today
would be called  "old school", knew a good celestial
sight was tough to beat and had faith that our position
was correct.  He obviously would have liked the
verification from the electronic navigation, but celestial
and dead reckoning was the best we had.Venus was
available for sights during the morning daylight
hours.  I was able to get accurate positions using a
LOP of Venus with an LOP of the sun.  We felt good
about our position and our faith in position was
reinforced when the soundings from the fathometer were
spot on. So the decision was made to continue on our
present course.

As one
always does when navigating, you always want a double
check.  Another mate was using the ships sextant, but
due to the blustery and cloudy conditions, he was having a
few issues and was not "feeling good" about his
sights.  The C-Plath has a great star scope which
made Venus show up great during the day and being of heavy
brass, wind is normally not much of an issue with getting
a decent sight. I was no
better at celestial than the other mate, but I did have
the right sextant and I have no doubt, this is the best
sextant ever made.

The 4102 finally did
give us a fix about 20 hours after we needed it.  The
LORAN unit started working correctly just after we entered
deep water again. The Captain ordered a C-Plath Classic to
replace the ship's sextant.

I know when
sailing  today, GPS is thought of as bomb
proof.  I must admit, its easy to be lulled in that
the perception its never wrong.  Ships lose power,
batteries die, GPS units malfunction, but a good sextant
will never let you
down."
Even with that background, there
are no visual cues that this sextant was used at sea in
sometimes rough conditions because it was maintained
by a trained professional who valued his instrument
as he valued his ship, and crew. For example, both
its index and horizon mirror are unblemished and
everything else is in like new condition making it an
outstanding example of a sought after Navistar Classic.
Top: Sextant with the 6 x 30 Sun
scope mounted. Bottom: Back of sextant with 4 x 40 scope
mounted.
Some of the
ships served in. From top to bottom. Florence, Liberty
Star, Cape Orlando, Maersk Nevada,
Cape Vincent. The grey hulls were Military Sea
Transport ships.
WHAT IS A NAVISTAR CLASSIC:
There are some sellers, either through ignorance or
on purpose, call some Plath sextants by this name or claim
they were made to the same standards or were the predecessor
of this instrument.

Don't confuse this model with the
similarly named Navistar
Professional which. in our opinion is the worst
sextant made by Plath or the Navistar Traditional which
was made shortly before sextant production ended. That
instrument has an error up to 20 arc seconds.

You can
identify the Navistar
Classic by these clues:

1. It has a special micrometer
drum
2. The Navistar brand imprint
on the arc.
3. The vernier has six indents
and reads to 10 seconds of arc.
4. Comes with a fine wood case with a
green absorbent liner as standard
5. And originally came with an
instruction booklet, and Plath's
certification with matching
numbers.

For the
seven year period from 1978 through 1985, only 1693 Navistar
Classics were made. That is only 211 per year to satisfy
worldwide demand.
Crystal clear horizon
mirror


Perfect index
mirror

Vernier, working light and
Navistar imprint and
SN

Original manual and 2 certificates of
accuracy

STAR RANKING:
Taking
the non-standard case into account, we still classify this instrument and
it scopes to be in except
exceptional condition and worthy of a 5 Stars Plus
ranking.

This is the
22nd Navistar we've offered. In our opinion, they are the
finest of the contemporary sextants. They will be equally
desirable at sea or in a collection of only the best, and
should only appreciate in
value.

The Navistar Classic
was the top of the Plath line and was made in limited
quantities, and was manufactured with a guaranteed
non-adjustable instrument error of 10 arc seconds or less.
It sold for a premium over all its other sextants. For
example, almost 30 years ago, they sold for over $1000.00,
and as recently as 2001, the price had risen to
$4000.00.
Top. Picture of
closed Pelican style case. Bottom. The open case
with the sextant and all
accessories


This C. Plath Navistar Classic requires
someone who can appreciate the fine points of a sextant, and
is willing to pay an appropriate price for this level of
quality and excellence. It is suitable for a collector or
for use at sea.
OUR
QUALIFICATIONS:
We are one of the few company's still selling navigation
instruments   that know anything about them. For
purposes of judging whether Joel's opinion counts, he was
the editor of the chapter on sextants of the 1977 Edition
of "Bowditch", The American Practical Navigator, NAVPUB 9;
a member of the U.S. Naval Academy Navigation Symposium,
1975 -1978; the author of a book on marine sextants,
Cornell Maritime Press,1975, and the founding president of
Nautech Maritime Corporation which partnered with Tamaya
of Japan in the introduction of the MS 733 Spica, the MS
833, Jupiter, MS 933 Venus sextants and the famous NC-2
navigation computer, in the U.S. market. Joel is a retired
Master Upon Oceans, and held a U.S. Navy "D" Qualification
as a Senior Skipper – Oceans.
For six years he was a Varsity
Offshore Sailing Team Coach at the U.S. Naval
Academy.


Some of his memberships have included
the: Association of Naval Aviation, Silver Wings, The
Tailhook Association, Naval Academy Sailing Squadron,
McCampbell's Aces Squadron, Naval Historical Foundation,
and the Naval Order of the United States.
C. PLATH COMPANY HISTORY: In brief,
Carl Plath started manufacturing sextants, in addition to
other nautical products, in Hamburg Germany in 1862 though
the purchase of the David Filby instrument company though
the company's origin dates back to 1837. As a result WW
II, C.Plath was dismantled completely by the occupation
forces. Around 1950, various prohibitions were lifted, and
C. Plath was allowed to begin production again of sextants
and other nautical instruments. Also in 1949,C.Plath was
offered a gyrocompass patent and in 1951 the first
gyrocompass designed to this patent was presented to the
public. C.Plath progressed from the role of instrument
maker to that of a modern marine navigation equipment
manufacturer. In the following years the product range was
expanded by many more modern designs such as autopilots,
speed logs, radio direction finders, etc.
In 1962 C.Plath was acquired by
Litton Industries, a large American concern.The C.Plath
North American Division was set up in 1978 in College Park
near Washington. 1996 saw the introduction of the world's
first fiber-optic solid-state gyrocompass by C.Plath. The
first ever gyrocompass with no moving parts. Sperry Marine
was formed in 1997 with the combination of C.Plath, Decca
Marine and Sperry Marine with more organizational changes
yet to come. After 163 years, C.Plath changes its name to
Sperry Marine in May 2000. In 2001 Sperry Marine becomes
part of the Northrop Grumman Corporation. In the 1990's
Plath came out with a series of new sextant designs with
overlapping designs and confusing names. They seemed to
have lost their way. Shortly thereafter, C. Plath quit
producing sextants. The parent company has completely
liquidated everything including machinery, equipment and
spare parts.

C. PLATH
NAVISTAR CLASSIC SPECIFICATIONS:

Measuring Range: -5 to 125
degrees

Telescope: 4 x 40 Coated
optics

Frame: Bronze with black enamel
paint and bronze arc.
Micrometer
Drum and Vernier Scale: reads to 10 seconds of arc
Index Mirror: 59 x 44 mm.
aluminized on the rear side.
Horizon Mirror: 57mm diameter.
Shades:
4
for index mirror
3 for horizon
mirror

Weight sextant: 4.2 lbs
with 4 x 40 scope.
Weight case 6
lbs.

INCLUDED ARE:


1 C.
Plath Sextant frame


1 4x 40 star
scope 

1 6
x 30 sun scope



1 Mirror
adjustment tool


1 Phenolic Pelican style
case


1 Plath Navistar
manual


1
brush


2 certificate of
accuracy


Original Plath
mania