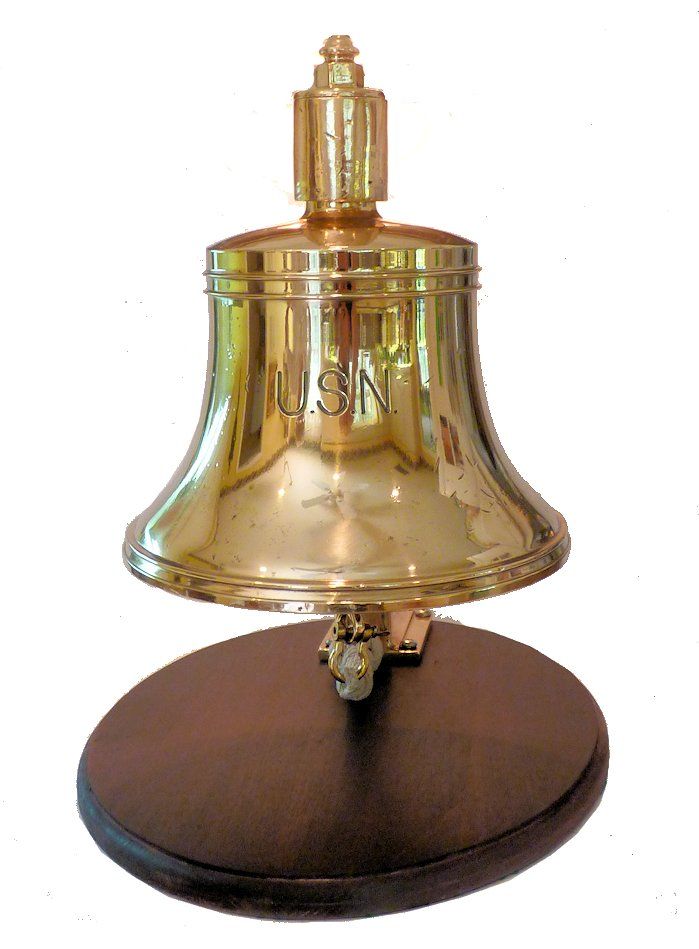 PRE WW I Polished & Lacquered Bell 
Presented is a
Turn of the 20th Century U.S. Navy "Foredeck" bell which comes with a fancy macramé bell rope;and is mounted
on an oval hardwood stand. It has its original clapper and inverted "J" bracket and the special combined one piece
nut and washer. As originally found, its inverted "J" bracket was bent in the process of removing it from the ship.
Our shop has carefully removed almost all the bend so that it will not be noticed.

NOW HARD TO FIND:
U.S. Navy bells of this unique design are becoming very scarce, and difficult to find. The earlier bells dating
from before WW I like this one are scarcer still.

 

PROVENANCE: Handed down in the family of
a Navy Veteran.We were delighted to have the grandson contact us.

NAVY BELLS RING WITH DISTINCTION:There
is nothing comparable to the sound of a Navy bell. The use of a special "bell metal" formula produces
a clear, sharp ring and sets up a strong reverberation that has a strong resonance that once heard will never be forgotten.
Cheap imitations can never achieve this distinctive ring because "bell metal" is a specially formulated bronze
alloy, unique to the Navy for this highly specialized use.
         Looking at rear of bracket showing
nearly straight
DIMENSIONS – BELL:

Diameter at mouth 10″ Height to crown 6
3/4″ Height overall 16″

OVAL WOOD STAND: 16″ L x 11
3/4″ D x 3/4″ T  Weight: a heavy 29 1/2 pounds

CONDITION: The bells shows a few
dings on the outside to the right and below the N and a few minor irregular imperfections elsewhere. This one had
its bracket bent in being removed from the ship, which has been straightened and doesn't show. It has been newly polished
and lacquered. The bracket has a rough surface and there is a foundry product number on one side. The bell
rings sharp and clear and resonates making a strong vibration typical of Navy bells.
| | |
| --- | --- |
| |   Special one piece nut and washer |
This outstanding and rare US Navy bell is
a great find for a gift, presentation piece or for a collection that includes only the finest. The stand
makes it ideal for display!