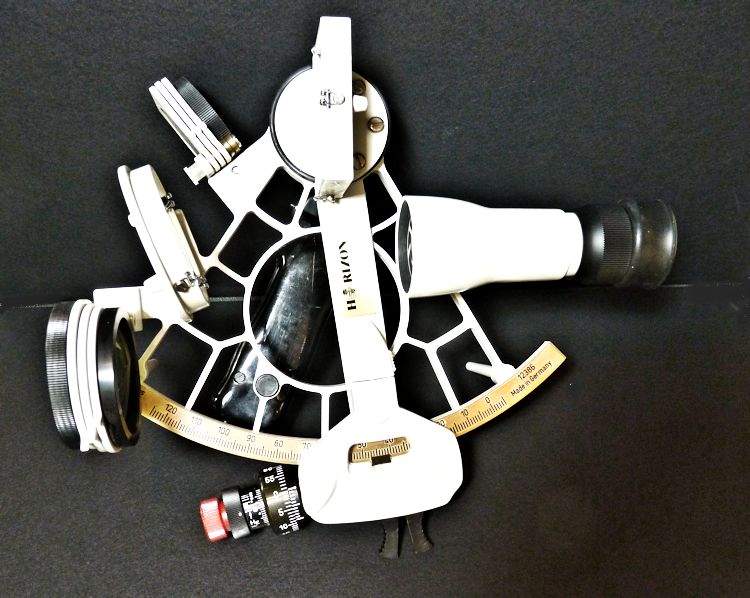 Presented is an outstanding and what was flawless "Collector Quality" example of the C+P Horizon Ultra model which has special Polarizing shades for the index mirror and horizon mirror, along with the normal shades. Other features of the Ultra are a double prism lens mounted as a shade which establishes perpendicularity, and a special second-micrometer wheel that adjusts for index error. Both are exclusive to the Ultra design. It has an exceptionally strong brass alloy frame, providing a guaranteed accuracy of 9 seconds of arc. This compares to 20 arc seconds of error in most other sextants. The white finish is more heat resistant when used in tropical climates and provides increased accuracy. The lighting system is working.
Recently, the handle was damaged in our shop by putting it in contact with a chemical which stained it.   This picture shows the extent of the stain. The immaculate Mahogany carrying case is shown below.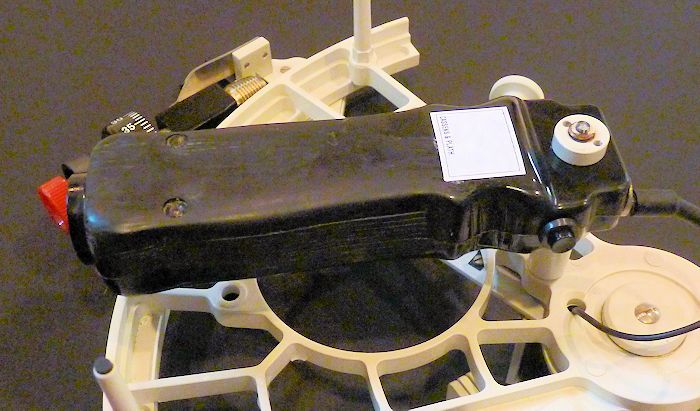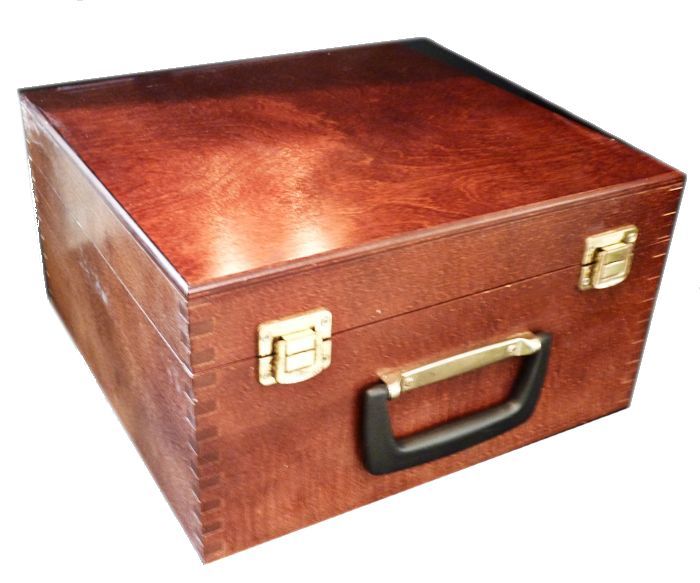 This example has all its original paperwork, a manual and undated certificate that shows a matching Serial No. 12386. It is housed in a mint condition Mahogany wood case with a 4 x 40 scope.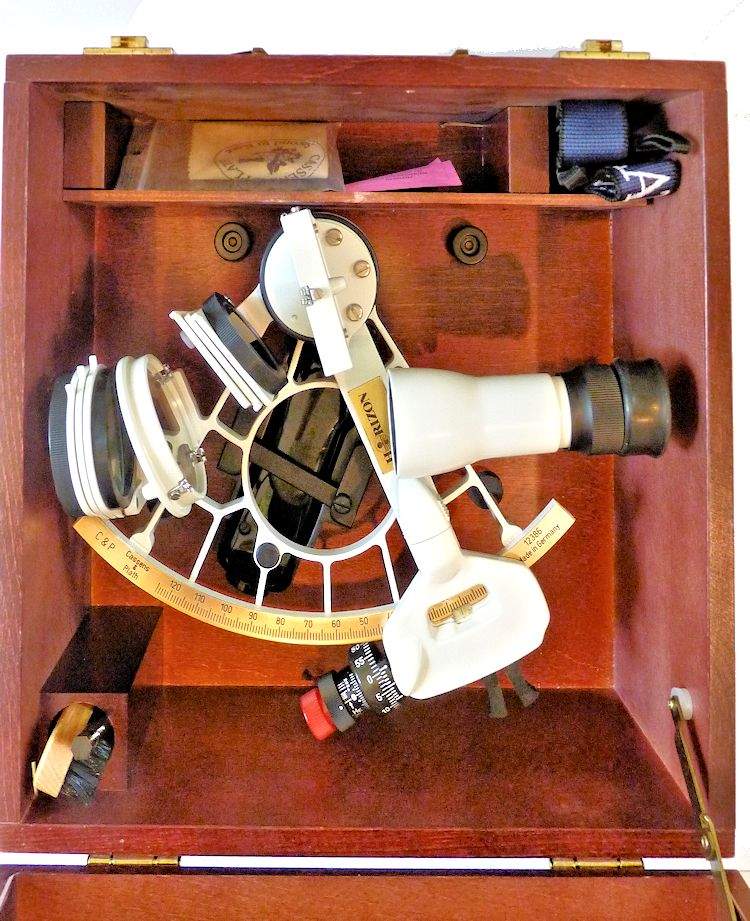 PROVENANCE:   It was given as a gift to a person leaving the Navy and was never used.
This sextant is in such excellent condition that it can be considered, "as new". It is suitable for someone wanting a quality German brand at an affordable price.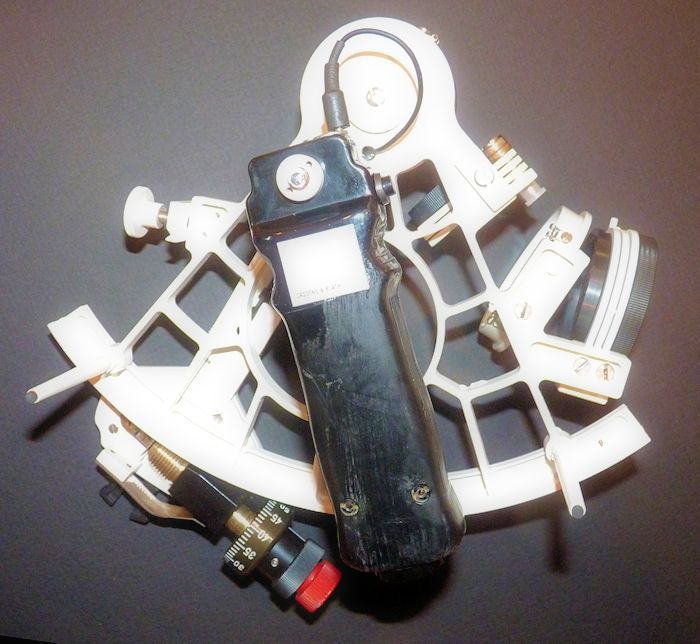 CONDITION:  Except now for the handle's stain, there is so little  evidence of wear or use that it can be considered
as almost new in all other respects.  For correctness, there is a slight loss of brass plating on the case's hardware.  It has recently been adjusted to negligible index and side error.

  Flawless index mirror shown over equally flawless horizon mirror shown with Polarizing shades
Flawless index mirror shown over equally flawless horizon mirror shown with Polarizing shades
Illuminated vernier and Index Error correction device shown above manual and certification
Illuminated vernier and Index Error correction device shown above manual and certification

This is a fine example of a previously owned Cassens & Plath Ultra sextantle
and is suitable for a collector or for use at sea . It is is being sold at a very low price which cannot
be duplicated.
STAR RATING: This fine Collector Quality instrument rates FIVE PLUS STARS

CASSENS & PLATH HISTORY: At the turn of the twentieth century Hamburg, on the river Elbe, the home of C. Plath (named after founder Carl Plath) was the leading seafaring port in Germany. However it was being challenged by Bremen, that other great North Sea port on the river Weser.

Plath was at that time the unchallenged leader in the manufacture of nautical instruments on the European continent. However it had always had a difficult relationship with the Bremen shipping companies and shipyards. The firm realized that if it wanted to do business in Bremen, German parochialism demanded that it have an office in that city. In 1908 Theodore Plath was offered a partnership in Cassens and Benecke when one of the original
founders of the Bremen company – Benecke – suddenly departed. At that stage the company founded by Tanne Janssen Cassens was only 6 years old and was a minnow compared to the whale that was C Plath. It is my understanding that the company was not even an instrument manufacturer but rather a trading company servicing the port of Bremerhaven. Theodore Plath only accepted on condition that the partnership's name be changed to Cassens and Plath.

The C + P partnership never had any intention of manufacturing sextants and other nautical instruments. It was simply a vehicle for the marketing of C. Plath compasses, sextants and nautical instruments into the Bremen trade. It also acted as a chandlery and repair service for Bremen ships carrying Plath instruments.

This arrangement worked until 1962 when C Plath sold out of the partnership and the two companies went their separate ways. It was from this point on wards that C + P began to manufacture their own instruments, no doubt heavily reliant on C Plath designs. Therefore, there are no Cassens & Plath sextants older than 1962.
CASSENS & PLATH STANDARD SEXTANT SPECIFICATIONS:

Measuring Range: -5 to 125 degrees

Telescope: 4 x 40 Coated optics
Frame: Bronze with White enamel paint and bronze arc.
Micrometer Drum and Vernier Scale: reads to 10 seconds of arc
Index Mirror: 56 x 42 mm. aluminized on the rear side.
Horizon Mirror: 57mm diameter Whole Horizon.
Shades:
4 for index mirror including a Polarizer
3 for horizon mirror including 2 polarizers and a perpendicularity corrector

Weight sextant:   4 lbs. 10 oz. Weight case 6 lbs.

INCLUDED ARE:

1 Cassens & Plath Sextant frame

1  4 x 40 Scope

1 Mirror adjustment tool

1 Brush

1 Varnished Mahogany sextant case with No locks