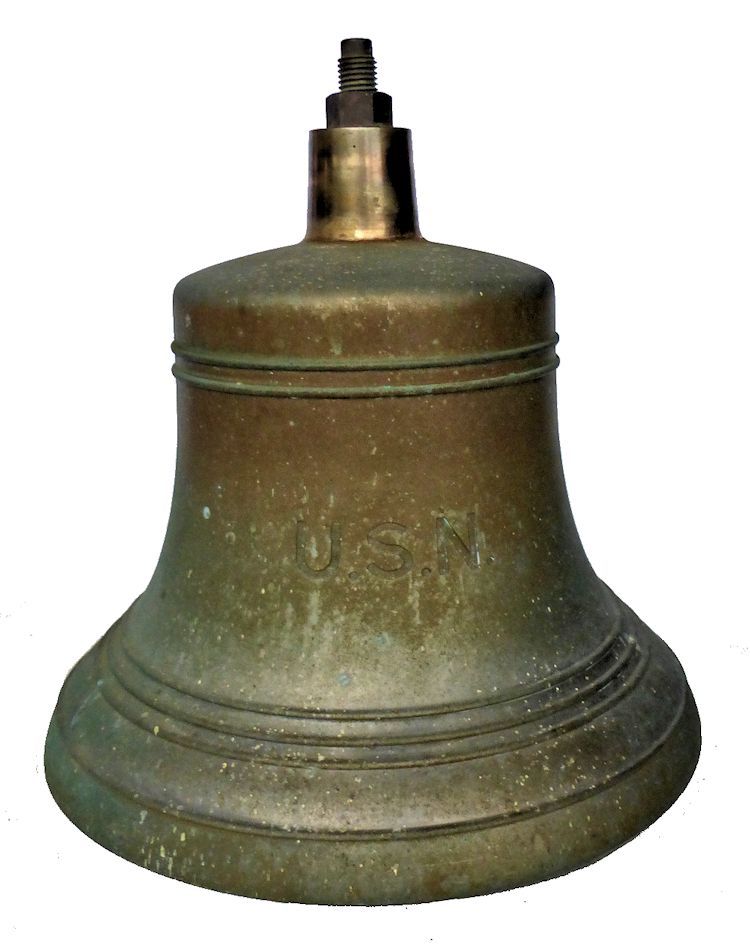 Partial Hanger and Fancy Bell Rope Included!
Presented is a very rare WW II or earlier Navy bell engraved USN on its face, and with the raised bands tha signify it was made around the turn of the 20th Century. The bell measures 15 1/2 inches wide at the mouth and stands 14 inches tall over all. It weighs an estimated 75 pounds and is all bronze. This is the only bell of this size and type that we have ever had available for sale. Furthermore, we have never seen an American bell of this size or design offered for sale elsewhere.  For a size comparison, see the
picture of it alongside the Navy 20 pound foredeck and anchor bells that have been our specialty. It is new to the market
and was handed down in the same family since the 1970's, having  originally hung in barn and used to announce meal time and special events. If polished as it would have been when in Navy service, the bell will be even more impressive. Please feel free to inquire about this worthwhile option which includes a lacquer coating.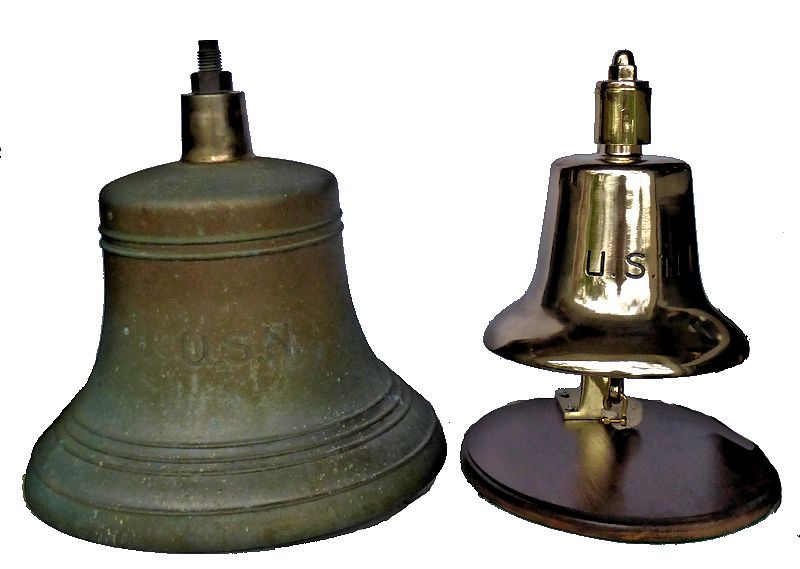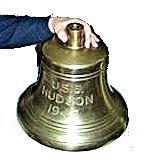 The Navy uses an alpha numeric system to
classify their bells by size, weight, and musical tone key.  On commissioned vessels that have a name and hull number, the name will appear on the bell. The size and weight of the bells increase with the size and displacement of the ship. The numerical number are 1 through 9 and include all vessels under 1000 tons displacement, unless they are of a class of destroyer over 700 tons, which is size 7. Hence, the Fletcher Class destroyer, USS Hudson (DD-475) launched 3 June 1942, had a bell exactly like this one as shown in the picture at left. This bell being unnamed is consistent with the specifications of a size 8 Navy bell covering vessels over 700 tons and under 1000 tons. The letters A through E of the system include vessels over 1000 tons and up.
ACCESSORIES:1. The bell comes with a 6″ x 1/8″
circular brass plate used to secure it when hanging.
2.  A 5 1/2 inch cross bar with a flange to accept the bell's neck that can be extend.
3.  A period correct large, fancy bell rope,
a $300.00 value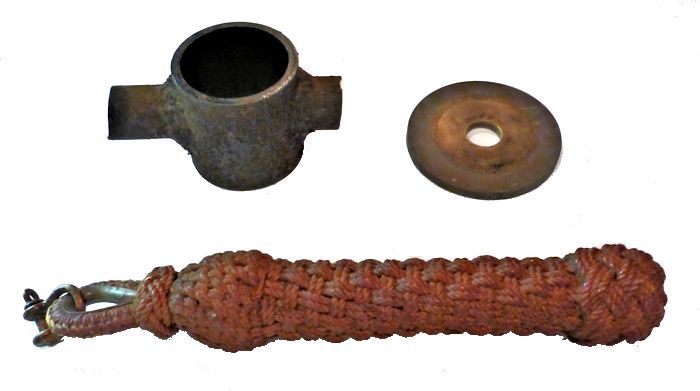 NOW HARD TO FIND: All U.S. Navy
bells are now becoming very scarce, and difficult to find. This one is the only one of its size that we have ever
offered. Our regular size Navy bells are on this page, https://landandseacollection.com/id276.html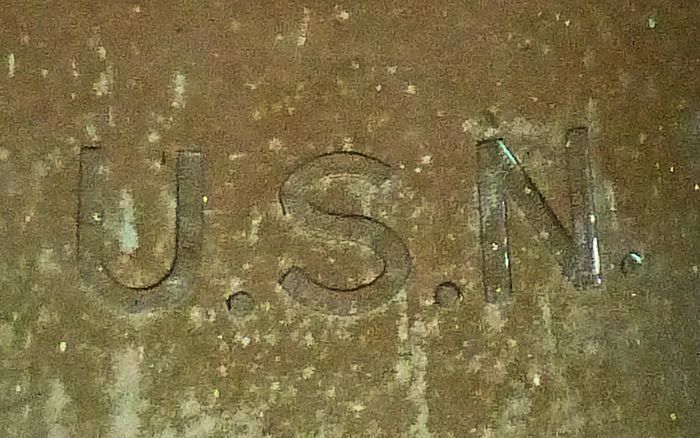 NAVY BELLS RING WITH DISTINCTION:There is nothing comparable to the sound
of a Navy bell. The use of a special "bell metal" formula produces a clear, sharp ring and sets up a strong
reverberation that has a strong resonance that once heard will never be forgotten. Cheap imitations can never achieve this
distinctive ring because "bell metal" is a specially formulated bronze alloy, unique to the Navy for this highly
specialized use.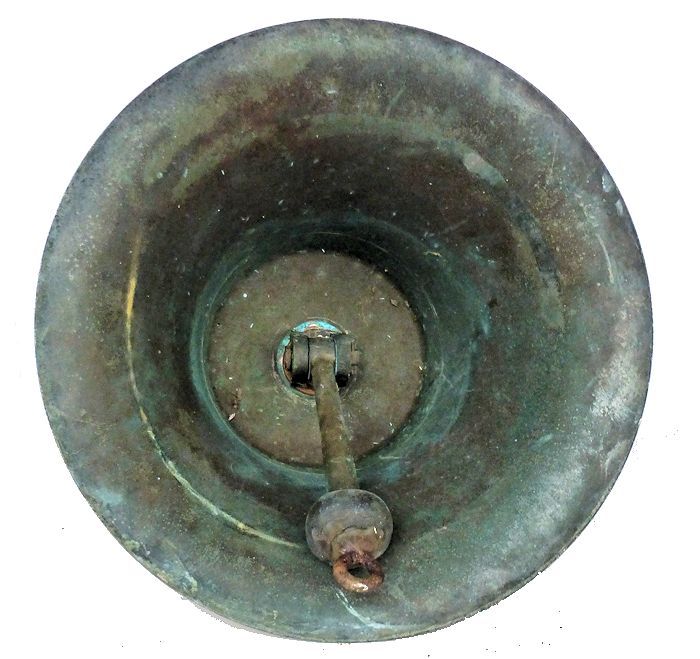 Inside of bell showing large clapper
DIMENSIONS BELL:
Diameter at crown 7 1/2″
Diameter at mouth 15 1/2″ Height to crown 10″ Height overall 14″
CONDITION: Everything appears to be in perfect condition. There are no known defects.  It has a few superficial and minor scrapes and some light paint splatter and minor drippings.  It can be polished and lacquered at extra cost on request.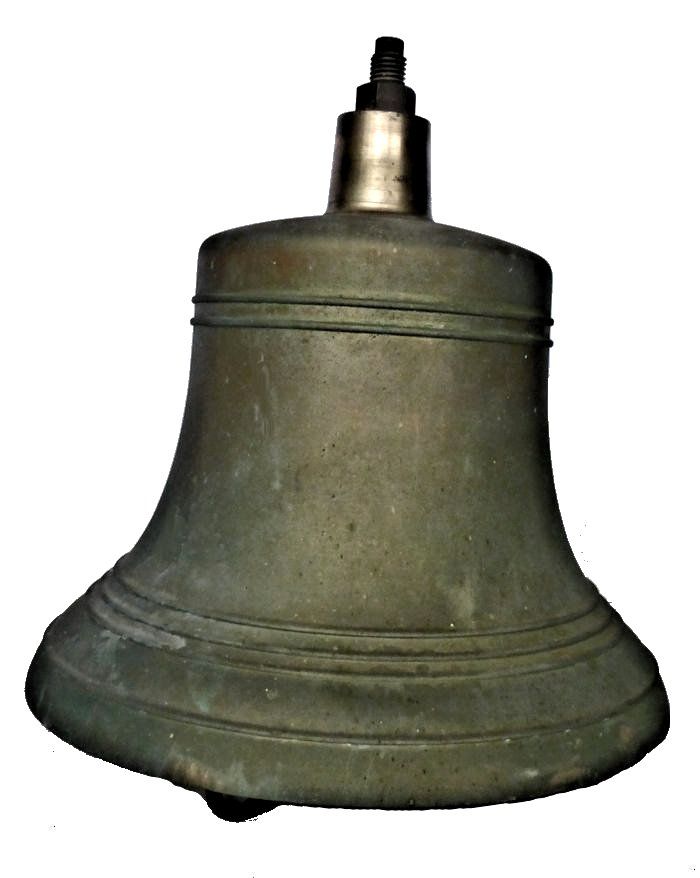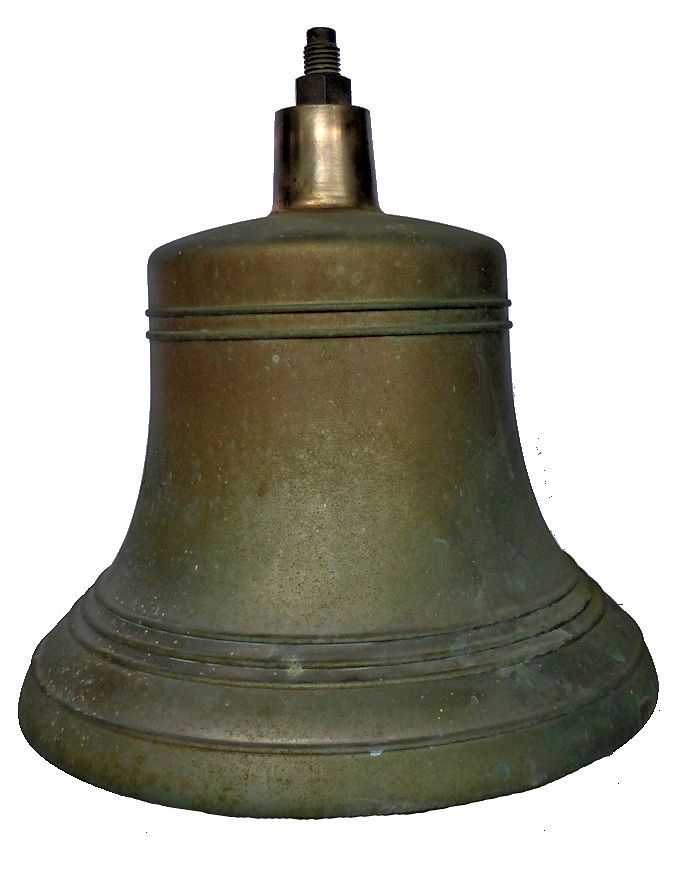 Left and right side of bell are in perfect condition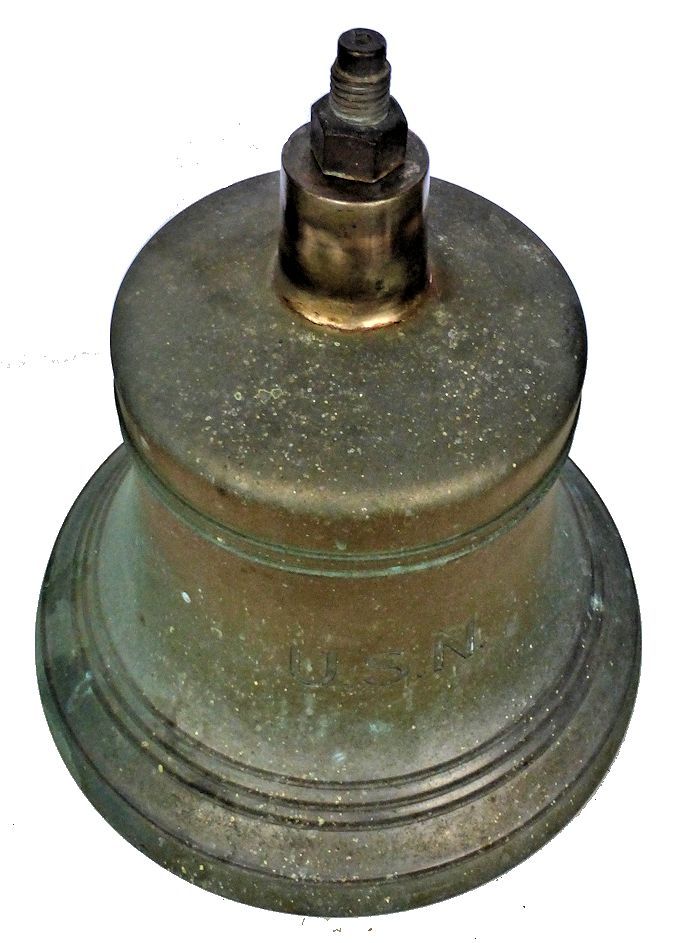 Looking down on the front of the bell showing some paint splatter.