MUCH OF WHAT TO KNOW ABOUT
U.S. NAVY BELLS
Below is an example of a
U.S. NAVY WORLD WAR II FOREDECK BELL
AKA ANCHOR BELL AS BELOW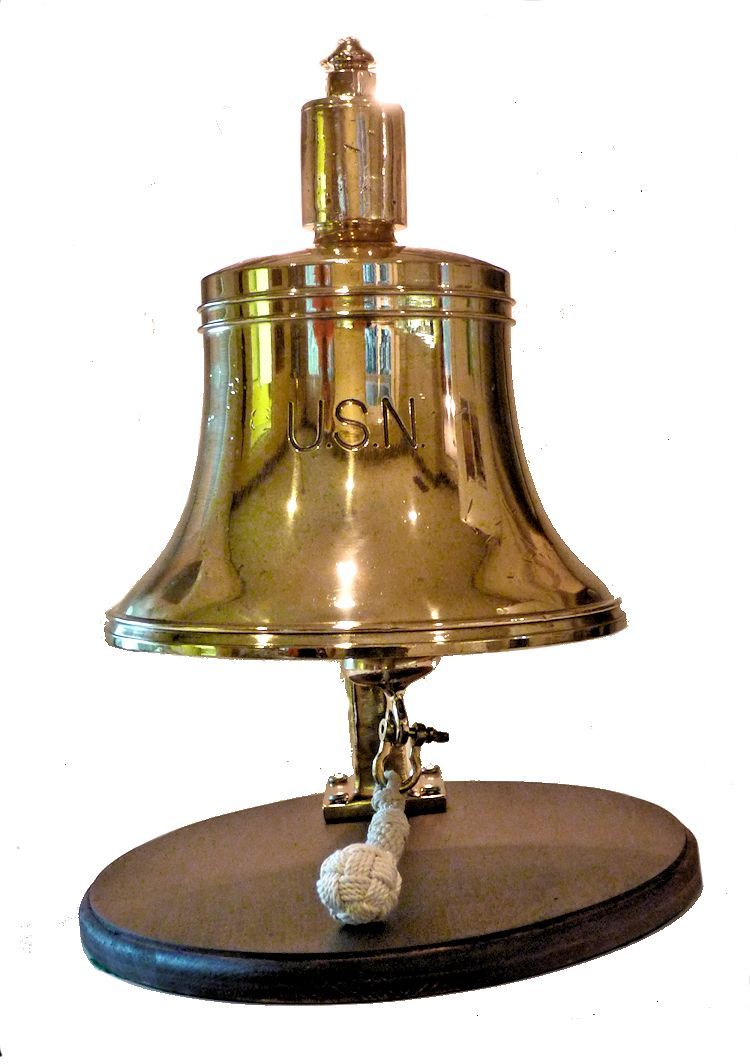 Based
on my research and personal experience, there is very little information in the public domain other than the details
in the sales listings on our website that discusses Navy bells in any detail. The best government source of information
is that if the Naval History and Heritage Command, but at the time of this writing it does not include the topics discussed
in this monograph. See this link direct to their section on bells;  http://www.history.navy.mil/research/library/online-reading-room/title-list-alphabetically/b/bells-on-ships.html
OUR
CUSTOMERS: Land And Sea Collection has sold numerous bells that were given as retirement gifts, including one to a Chief of
Naval Operations, and as a gift to a retired Secretary of the Navy. We have sold bells of this type to Navy Commands
to be used for ceremonies which include the U.S. Military Command in Thailand, a Naval Reserve Officers Training Center Unit,
and the U.S. Central Command. We have also sold a bell on a confidential basis to the Department of Defense to be used as
a gift to an important foreign dignitary.
Thus, as
a seller specializing in US Navy bells for the last fourteen years, and based on my prior Naval service, US
Maritime service, and also as a former military contractor and member of many Naval organizations, we offer the following
opinions:
CEREMONIAL
BELLS: In the general course of manufacturing, no Navy bell is specifically made as a Ceremonial bell. They are chosen
from ordinary lots based on the quality of the casting which should be free of any casting irregularities and then polished
to a high degree of luster. A fancy bell rope is added.  Ceremonial bells can be installed on a bulkhead
or mounted on a stand which can be moved from place to place. It is my personal opinion that the nickel plated
Navy bells may have been made for quarterdeck use.
NAMED
NAVY BELLS: Navy bells are classed by the size of the vessel for the primary bell which would be the largest on board. Larger
bells have the ship's name and cannot be legally sold unless obtained by the first owner in a bona fide surplus
sale.
WE
OWNED A FAMOUS NAMED NAVY BELL: We were the owner of the USS VESTAL'S bell for a brief time in May, 2016.
The Navy contacted me almost immediately after they heard of our purchase and after a brief delay, complied with my request
for proof that they held title to the bell, even though the ship had been sold for scrap years earlier. For sixty years the bell was hidden
from view until it was sold to me by a party in Baltimore who presented me with a signed bill of sale from an official
at the place where the bell was discovered.  When the Navy provided me documentary evidence showing the bell
was supposed to have been removed from the ship prior to being stricken from service, I made a decision, considering all the
factors of its importance as a national treasure, to relinquish my counter claim of ownership.
THE OFFICIAL BELL FROM THE FAMOUS USS VESTAL, PEARL HARBOR SURVIVOR , CONGRESSIONAL MEDAL
OF HONOR RECIPIENT, CDR CASSIN YOUNG, CO; AND PRESIDENTIAL UNIT COMMENDATION PLUS TWO BATTLE STARS
LOST FOR SIXTY YEARS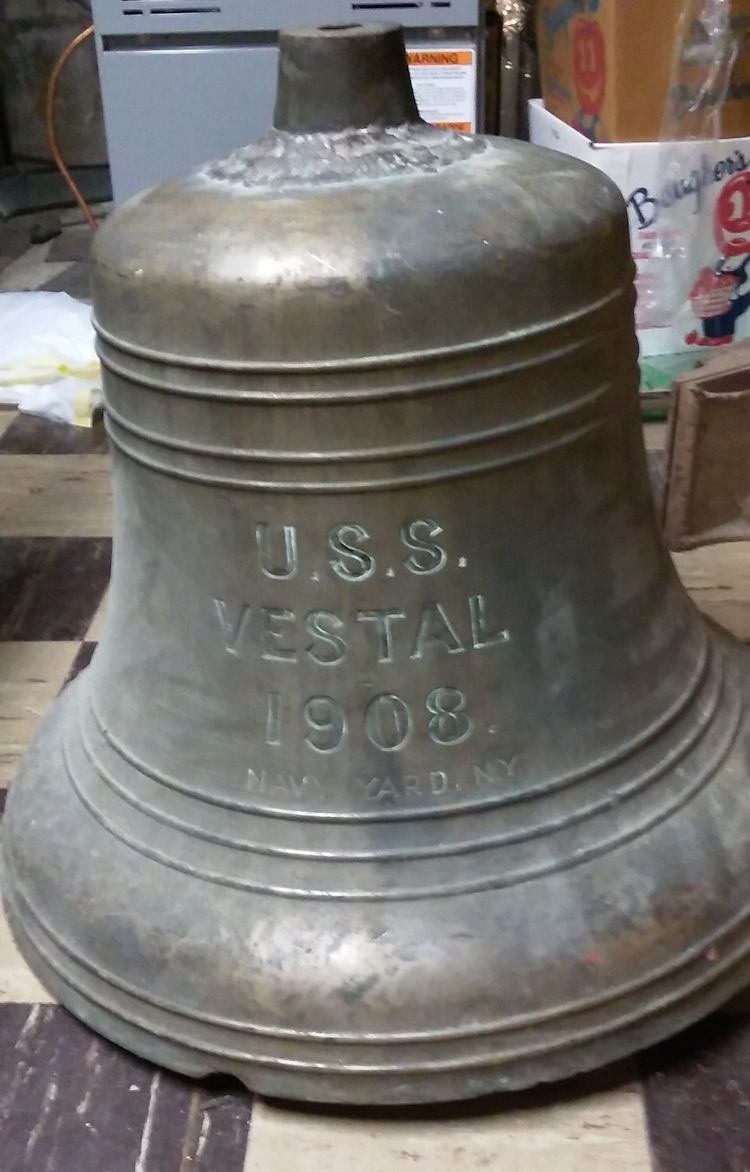 SHORTLY AFTER WE PURCHASED THIS BELL, THE NAVAL HISTORY
& HERITAGE COMMAND REQUESTED IT BACK
DESIGNATING A
BELL: In practice, other smaller bells take their names from where on the ship they are mounted, such as bridge, quarterdeck,
foredeck or anchor.  We have never found an official document confirming this and assume these names come from use, custom
and tradition. The closest thing we have is an old schedule of Navy bell sizes and specifications for a vessel's primary
bell which we are embedding herein. There is no difference in how bells were used before or after WW II. The tone of all Navy
bells varies with their size.  A bell of this size is A Flat; the largest Navy bell is B Flat.
ESTIMATING
A BELL's AGE: I have spent many years studying named Navy bells and have concluded that the number of bands
are the indicator. The USS VESTAL bell above is dated 1908 and has 9 bands. See Table of Estimated Age below:
TABLE OF ESTIMATED AGE US NAVY BELLS

| | | | |
| --- | --- | --- | --- |
| DATE | NO. BANDS | MARKINGS | COMMENTS |
| 1950 | None | US | Branch affiliation dropped |
| 1941-1945 | None | USN | WWII Uniform shape |
| 1930-1940 | 2 to 4 | USN | Shape & design may vary |
| WW I Era | 5 to 6 | USN | Standard specifications introduced |
| 1900 & Earlier | None | Ship's name | Ornate designs |
AGE
COMMENTS: Surely there are Navy files stored away  somewhere that have documents and records that historians
can use to prove or disprove this proposition. Maybe someone interested in this topic will pursue this line of inquiry.
PROVENANCE:
There only two ways to know from what ship an unnamed Navy bell was removed. The first is the purchase of a bell
at a government disposal sale which would have recorded the ship's name on the invoice, and the second
is if the party who removed the bell notes the name of the ship.  To our knowledge there is no record linking a
serial number on a bell to the  ship from which it came. In fact, these may be contract numbers and not serial numbers.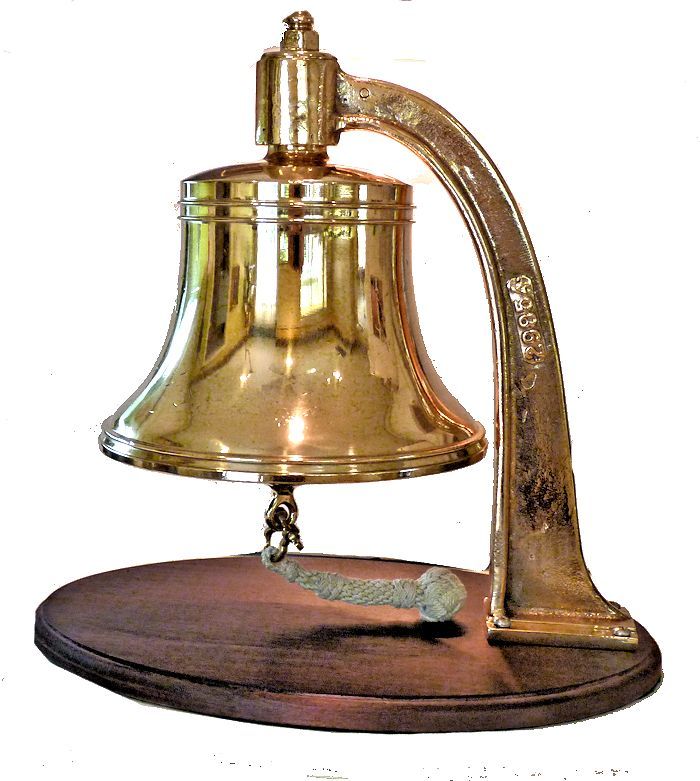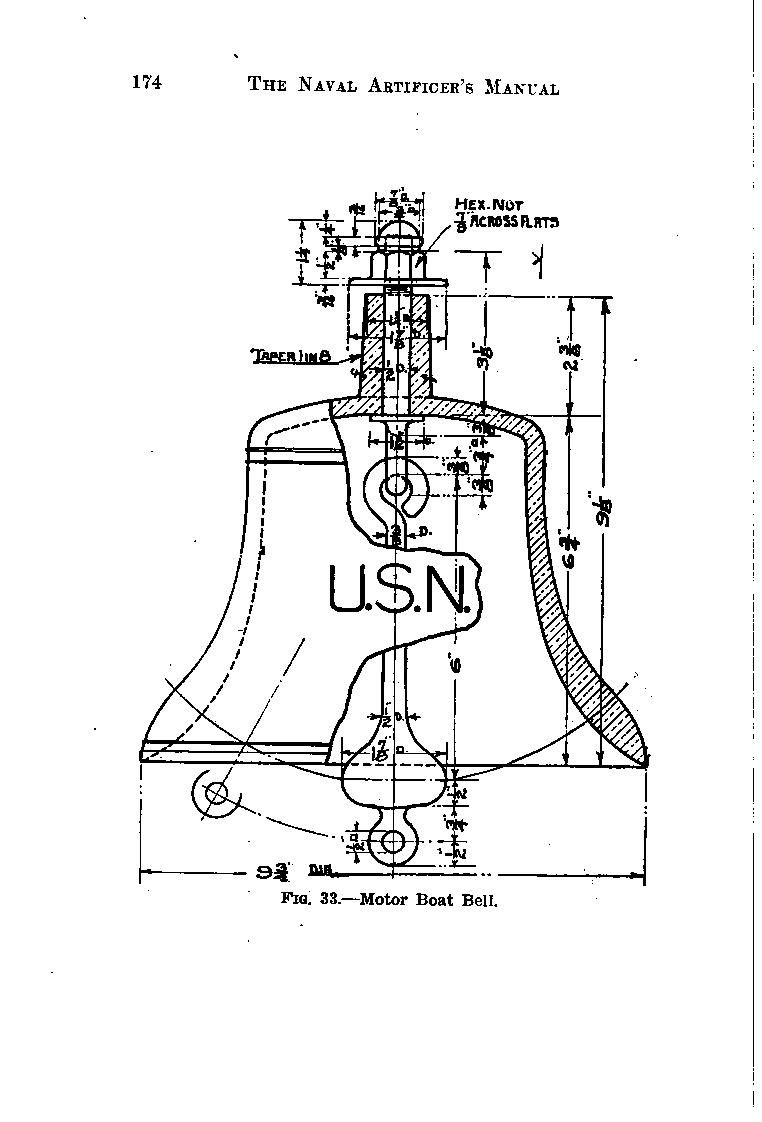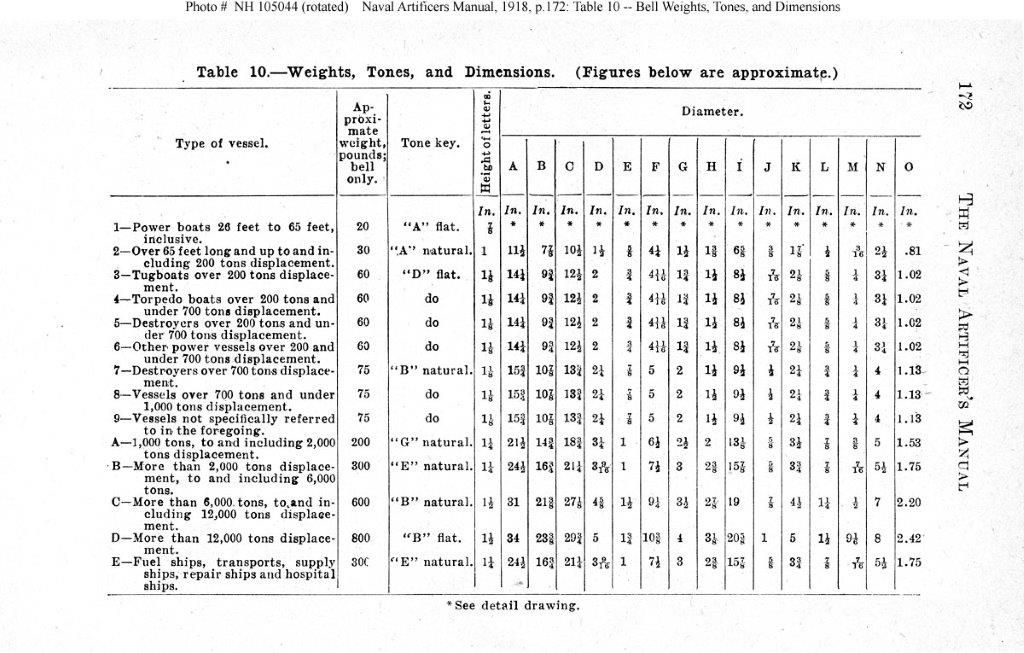 The tone of all Navy bells
varies with their size. A bell of this size is A Flat; the largest Navy bell is B Flat.
OUR
CREDENTIALS: My wife Julia M. Jacobs, and I have been dealer's in marine antiques for upwards
of fourteen years.
Focusing only on the maritime
portion of my career, it covers over sixty years, five of which were as an enlisted man in the US Navy as a BM2,
and later, I became a licensed US Merchant Marine Master Upon Oceans. I spent the summer years 1995 though 2000
as a volunteer Varsity Offshore Sailing Team coach at the US Naval Academy, and held a USN Qualification of Senior Skipper
Oceans, the "D" Qual. Hence, we love dealing in Naval relics and artifacts of all types, and understand them
better than most having used them at sea.
Some of my professional qualifications
include being a published author of marine topics, an editor of the 1977 Edition of Bowditch, the American Practical Navigator-
NAV PUB 9, working as a government contractor, and being an associate member or member of various Naval associations such
the U.S. Naval Academy Alumni Association, Naval Institute, Association of Naval Aviation, Tail Hook Association, The Navy
League, and sundry others. My lovely wife Julia and I as a couple, have been actively buying antiques and
art as collectors for 46 years.
BELL
METAL FORMULA: Bell metal is characterized by its sound and resonance when struck. It is a bronze alloy with a high
tin content of 20–25 percent. Bronze is improved in hardness and strength by the addition of a small amount of phosphorus;
phosphor bronze may contain 1 or 2 percent phosphorus. A full explanation of bell metal may be found at. http://www.historyofbells.com/bell-making/bell-metal/
This
is an unfinished work which will be to added to from time to time. Comments should be sent to "Navy
Bells"  

[email protected]

  Attn: Joel Jacobs