CHELSEA  10″ PILOT HOUSE CLOCK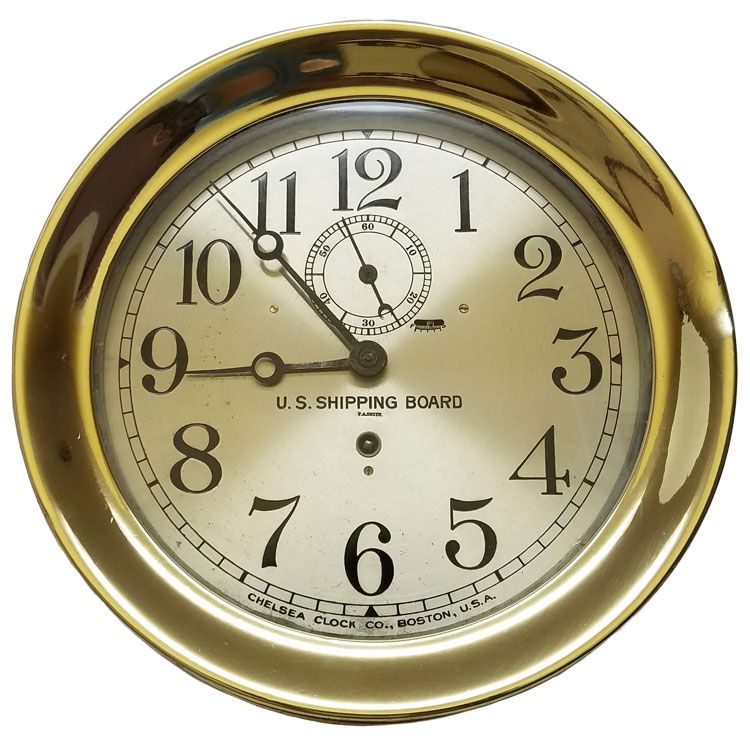 10″ CHELSEA "U.S. SHIPPING BOARD" CLOCK
PILOT HOUSE MODEL
Presented
is a rare and important, antique, eight-day clock with an 8-inch face, manufactured for the U.S. Shipping Board between 1915-1918. The Chelsea Pilot House movement is marked with serial number 129322, which is dating it to that period.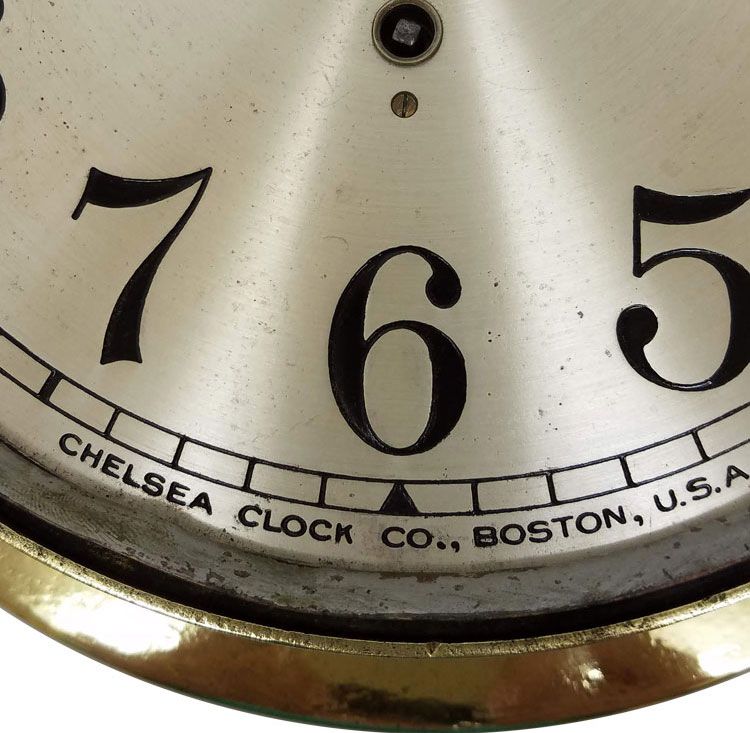 CHELSEA CLOCK CO., BOSTON, U.S.A
This clock, along with others, was ordered by the U.S. Shipping Board, (USB), for use throughout its organization. In 1914, the United States' maritime position had been eroding for decades with some Congressional concern, some remedies worsening the situation, with European shipping companies dominating overseas trade and just over 10% of the value of trade carried in U.S. owned ships.[1] The 1916 act was the result of Congressional efforts to create a board to address the problem dating from 1914.[1] At this time the legislation was not a part of any war effort with specific intent as stated in the act:
"An Act to establish a United States Shipping Board to encourage, develop, and creating a naval auxiliary and naval reserve and a Merchant Marine to meet the requirements of the commerce of the United States with its territories and possessions and with foreign countries; to regulate carriers by water engaged in the foreign and interstate commerce of the United States for other purposes."
A board of five commissioners was to be appointed by the president with confirmation by the United States Senate as the United States Shipping Board (USB) to acquire and construct suitable vessels and to create corporations under its control to execute the programs.   In essence, the USB was given "complete control over American ships and shipping".
Here is a link to read more extensively about the history of this organization: https://en.wikipedia.org/wiki/United_States_Shipping_Board
U.S. Shipping Board                                                                                                Chelsea Clock Ser. No. 129322
DESCRIPTION: The clock is housed in a heavy forged brass case with easy to use side opening bezel and measures 10 inches in diameter. It has a large 8-inch brass 12-hour dial which is in excellent condition, and the clock has been recently serviced by a master clocksmith. The Arabic numerals and inscriptions are acid etched in black. Below the 12 O'clock position is the winding arbor. Next comes the hand's arbor that features a Full Moon minute and Full Moon hour hand. The large second hand has its own dial and the hand has a Half Moon tail. A Fast/Slow Lever regulator is directly at the top left of the enlarged second's dial. The precision, 8 Day 11 jewel Model F Pilot House movement, and lever escapement with large seconds dial and serial number date this clock's manufacture to 1918. It weighs a heavy 13 1/2 pounds. It is keeping excellent time when rated against a quartz comparison watch. A Chelsea key is included.
DIMENSIONS CLOCK:
Full Diameter: 10″
Diameter of Dial: 8″
Depth: 3″
Weight: 13 1/2 Lbs
This stunning Chelsea Clock with its dramatic size makes a memorable gift or as an addition to your den wall or in a collection.  Please check out this link:https://landandseacollection.com/id1231.html,   to a custom-made Clock Stand that will accommodate this fine clock, allowing for display on a mantel or desk.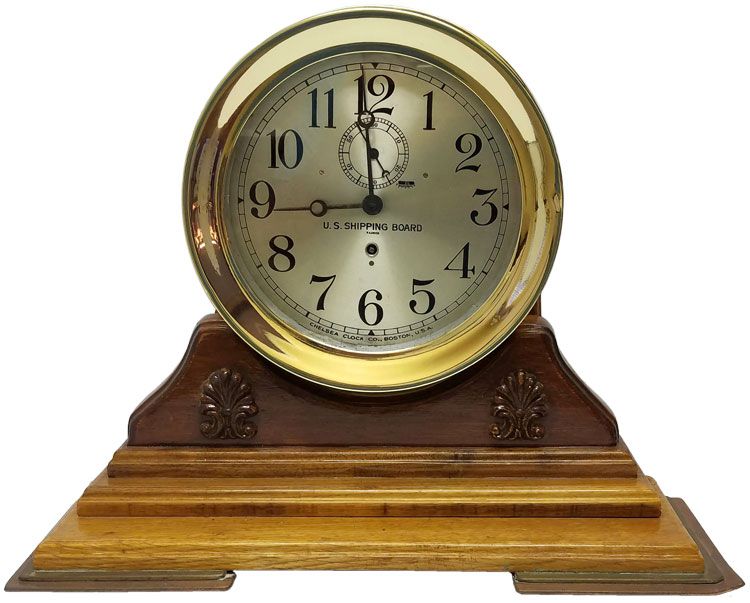 Custom Made Clock Stand Available
CONDITION:
This fine clock is in remarkable condition and the face shows only the normal patina of age. It has been polished and a lacquer protective coating applied for protection. The movement is bright and clean from just being serviced and keeping excellent time. For best time keeping, it should be wound about once a week.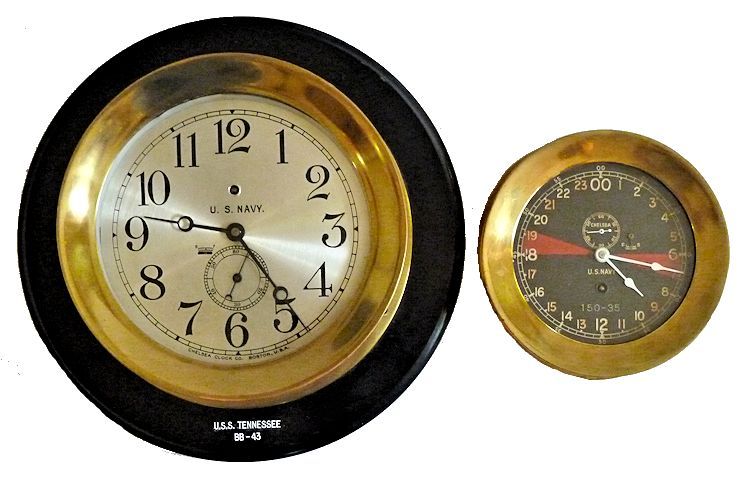 Comparative
difference in size between a 6 inch and 8 inch clock