AMERICAN EAGLE CARVING
 "LIVE AN LET LIVE"

This very fine, large size and impressive American Eagle has a weathered wood finish, including its Live and Let Live banner.
DIMENSIONS:
45 " L x 16" H x 4 1/2" D
WEIGHT: 8 lbs. 2 oz.
Presented is an outstanding and larger size example of a carved American eagle which is designed after those done by the Artistic Carving Company of Boston in the 1950s. We are not sure that this is by Artistic Carving Co, because of its size and depth, and may be an excellent reproduction of their design at the time. Over the years, there have been many carvers of American eagles, but the two most widely known are Artistic Carving Co. and those carved by John Bellamy, who was the best-known carver of his day. Bellamy's work commands prices that only the very rich can afford. For example, In the Summer of 2005, a Bellamy eagle brought $600,000 in a Portsmouth auction. There has been a moderation of prices since then, but a 26-inch eagle can still bring in the mid-five figures. See our Bellamy style Gold Banner Eagle carving on this listing: https://landandseacollection.com/id1314.html   The other enduring maker, the Artistic Carving Company started operation in the late 1800s and continued into the 1950s.
| | |
| --- | --- |
| | |
Detail of left-wing and right-wing
The eagle has heavily incised feathers on fully spread wings and a fierce-looking head with glaring eye. The red-painted open beak is turned right. The eagle's right talons grip a shield with 7 navy blue stars on a white field and stripes in red and weathered gold. This eagle has a weathered finish, possibly gold at one time, including a well-weathered white banner in its red beak with fouled anchors and the
"Live and Let Live" inscription.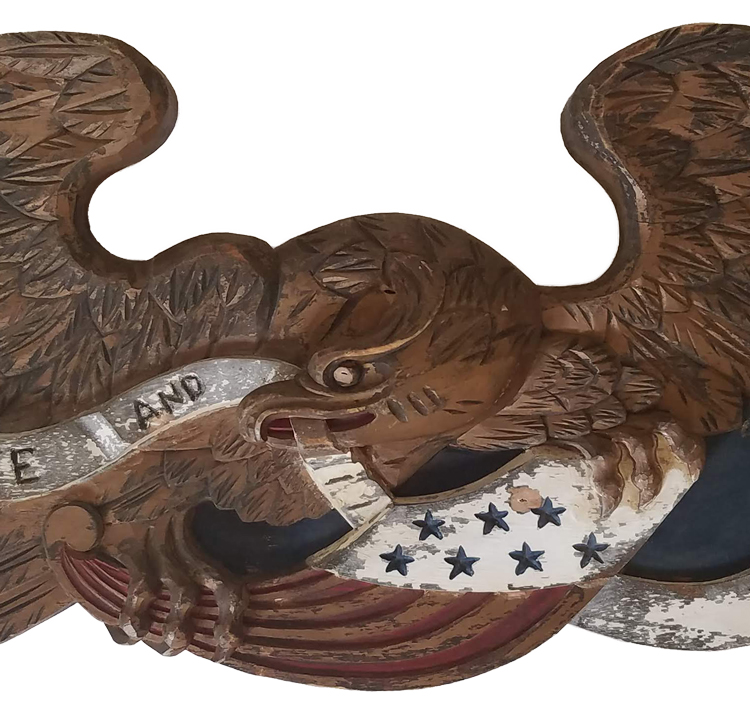 Detail of head

Back View
This great dramatic eagle carving will make a fine wall hanging for your home, den, office, or boardroom.
Price:   $3900.00            Shipping:  $165.00
Sale Price:  $2900.00