AMERICAN SILVER EAGLE 
Carved in the style of Artistic Carving Co.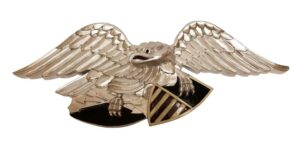 Dimensions: 25"L x 9"H x 3 ¾"W
Presented is a beautifully carved American Eagle in the style of the Artistic Carving Company.  We believe this to be a contemporary well-executed work reproducing their original design. This is a smaller size than most of our eagle carvings,(usually about 36″),  making it adaptable for smaller or more limited design parameters.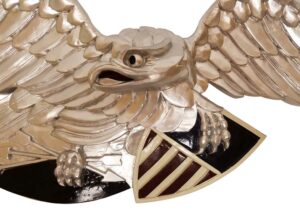 The eagle holds a striped shield in one claw and two arrows in the other. 
Over the years there have been many carvers of American eagles, but the two most widely known are those carved by John Bellamy who was the best-known carver of his day. Bellamy's work commands prices that only the very rich can afford. For example, In the Summer of 2005, a Bellamy eagle brought $600,000 in a Portsmouth auction. There has been a moderation of prices since then, but a 26-inch eagle can still bring in the mid-five figures.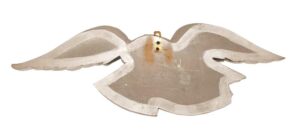 Back of Carving
The other enduring maker was the Artistic Carving Company which started operation in the late 1800s and continued into the 1950s. We currently have two other examples of Artistic Carving Company eagles in these listings:
https://landandseacollection.com/id955.html &
https://landandseacollection.com/id1246.html
Below is a copy of the ad in a very early catalog from Artistic Carving show their original design.
                   Original Price $750.00                   Sale Price:  550.00                         
Shipping $50.00