French Naval Boarding Cutlass with Scabbard
by Chatellerault Armory 1847

Dimensions:        Blade Length:  26 1/2″″              Overall Length: 33″           Width of blade: 1 3/8″      Depth of blade: 5/8″   
Presented is hard to find French Model 1833 naval boarding cutlass, known in French as "Le Sabre'd Abordage".  The 26 1/2″ blade has a thick flat spine and broad single fuller on both sides.  The spine is engraved with the details of the cutlass manufacturer, the Chatellerault armory, 1847.  Each side of the blade has a large anchor.  The blade is very sharp and shows in excellent condition with almost no tarnish along the spine and edge.  The steel bowl guard is in good condition showing some inspection marks (which are not legible) on both sides of the beaked quillon.  The blade is firm in the hilt.  The scabbard shows age-related cracked leather and some minor dents in the brass but is in overall good condition.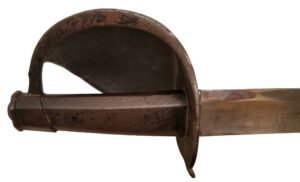 United States Navy at the beginning of the Civil War incorporated many of the design features of the French Naval M1833 Cutlass into their own U.S. Naval Cutlass which was designated the M1860 and manufactured by the Ames Company.   See  https://landandseacollection.com/id1295.html
This French Boarding Cutlass is an exceptionally fine and complete example of this famous sword and will make a wonderful addition to any armament collection.
The Manufacture d'Armes de Châtellerault ("Châtellerault Weapons Factory"), often abbreviated to MAC, was a French state-owned weapons manufacturer in the town of Chatellerault, Vienne. It was created by a royal decree of 14 July 1819 to manufacture swords, then (after 1850) firearms and cannons.
Following the French tradition of state arsenals competing with each other and with private industry, MAC designed and manufactured several well-known French small arms.  The facility closed as a weapons manufacturing facility in 1968 and was transformed into the central repository of all French military archives related to armament matters (Centre des Archives de l'Armement et du Personnel). It is open, for older declassified material, to bona fide researchers upon written request.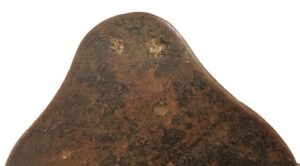 Showing inspection marks