Astra III B Sextant with Whole Horizon Mirror
and Prism Level Attachment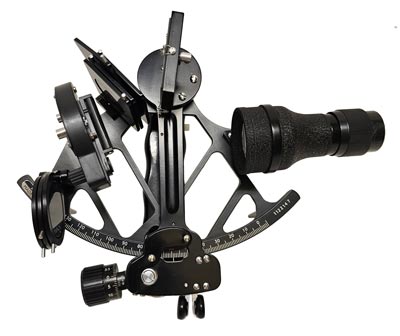 Price: $850.00                  Shipping: $55.00
This fine like new instrument came to us from a gentleman whose father taught celestial navigation.  However, it appears that the instrument has not been used to any degree.  Consequently, it is pristine with all the booklets and certificate.   It comes with a 3.5 x 40 scope,  a Prism Level attachment, and an Artificial Horizon.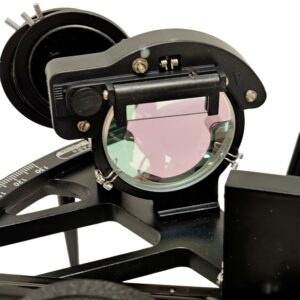 Prism Level II attachment
The Prism Level attachment is explained as such:  In traditional sextant sights, the celestial navigator must rock the sextant from side to side so that the image of the astrobody (as seen in the horizon mirror) travels in a short arc, the bottom of the arc can be difficult under the best of conditions … and next to impossible on a rolling deck.  Prism Level II helps to solve this problem by telling you when the sextant is vertical.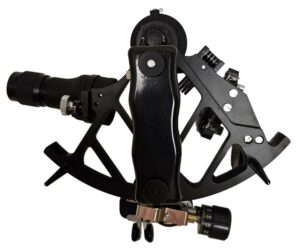 Back View
To read extensively about this fine instrument and why we feel it is such a good choice, click on this link to our regular listing for this fine sextant:   https://landandseacollection.com/id1375.html
The manufacturer's literature states that the Astra IIIB has revolutionized the metal sextant market by introducing a high-quality, accurate, metal sextant at a very reasonable price. Over 13,000 sextants of this model have been sold in the US alone in the past 15 years; far more than any other serious sextant. Its popularity has spread throughout the rest of the world as well. It is easy to see why. The sextant has the looks and feel of a fine piece of precision engineering and is detailed to a very high standard all around.
The frame is made from lightweight aluminum alloy which resists corrosion. Aluminum alloy is not new to sextant construction. It is currently used by Tamaya, Freiberger, and by C. Plath for a lightweight version of their famous Navistar Classic sextant. The Astra sextant is electrically lighted by LED on the arc and drum. Batteries are included. Its excellent optics and choice of horizon mirrors and other accessories make it a good choice for beginners and professionals.
Guaranteed accuracy: 20″ arc
Measuring Range:-5 to +130 degrees
Telescope: 3.5 x 40mm: Coated optics
Frame: Lightweight die-cast aluminum alloy with a corrosion-resistant light gray finish.
Micrometer Scale: reads to 1.0 min. Vernier to 2/10 min
Index Mirror: 56 x 42 mm. Aluminized on the front side.
Horizon Mirror: 51mm diameter.
Shades:
4 for index mirror
3 for horizon mirror
Sextant Weight: 2lbs, 10 oz. 10.0 lbs in case
Carrying case: Hi Gloss Varnished case with bronze clasps