Group of Watercolors by
H. Fletcher of the British Naval Vessels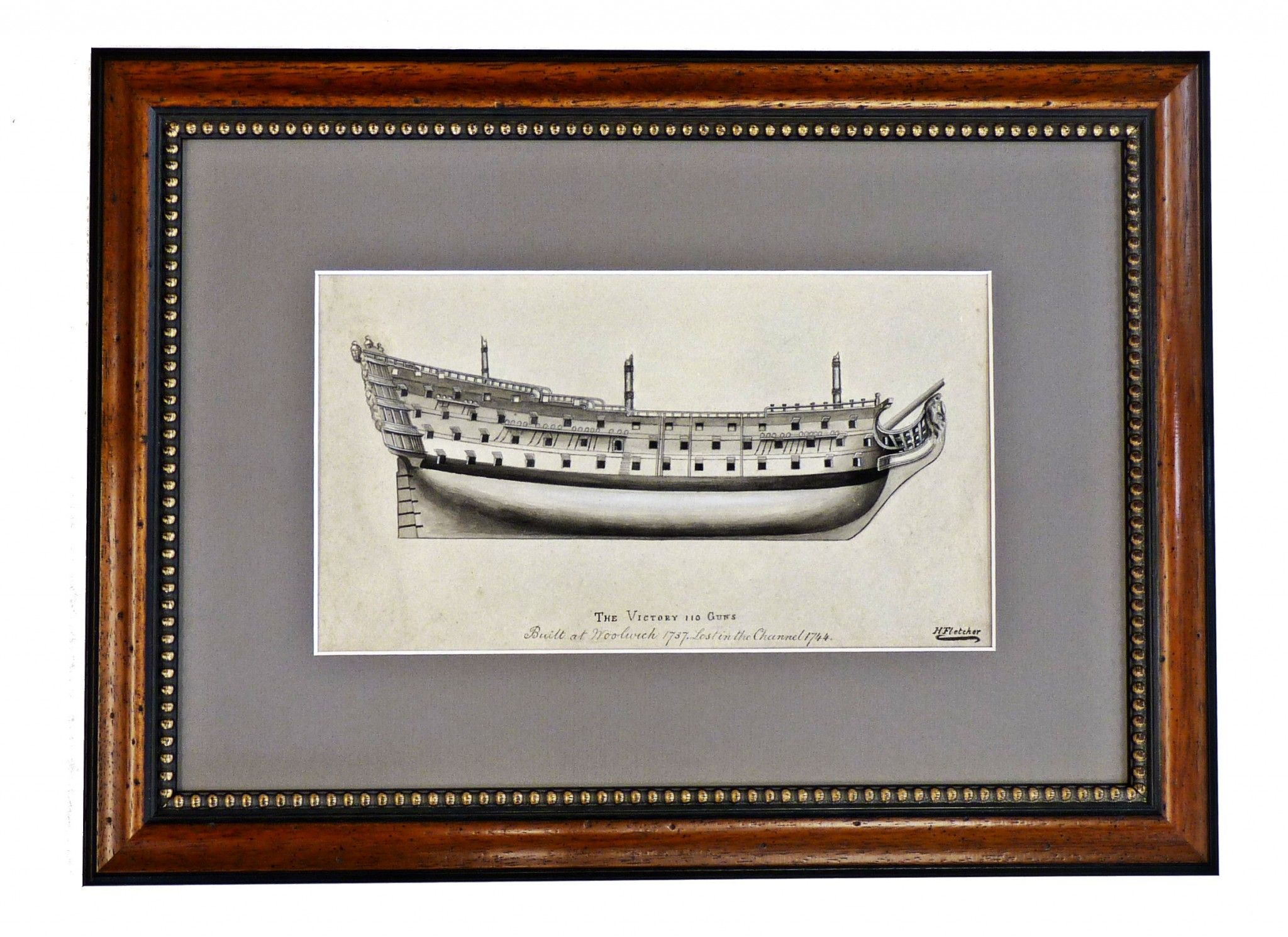 Watercolor
on paper of 110 Ten Gun Victory
Signed lower right
Framed  19  1/4″ L x 14 1/4″ H                    Unframed 11  1/2″ x 6 1/2″Legend:
The Victory 110 Guns Built at Woolwich 1737. Lost in the Channel 1744. Presented is an original watercolor of the
fourth Royal Navy ship named Victory signed H. Fletcher. She was built by Portsmouth Dockyard and had her keel laid
in 1726 and was launched 23 February 1737. She was wrecked off the English Channel early in October 1744. It is signed H.
Fletcher in the lower right. This Victory is shown in the typical Admiralty profile view in tones
of grey with white accents. The legend gives the details of the vessel. The painting
is archival mounted and framed under non-glare, UV protected glass in distressed wood with the inner edge surrounded
by cannon balls, and with a complementary grey matt.
Fletcher is known to have done a large number of watercolor paintings, primarily of
ships, of the period between 1700 and 1860 which includes some noteworthy studies of uniforms of the officer
ranks. Even though he is a highly skilled artist with an intimate knowlede of sailing warships, their armament and rigging,
no formal listing of him can be found in various published works and on the internet. The closest marine artist with the family name Fletcher is Eugene Fletcher
(1857-1945) who worked in England mostly along the river Thames. Some of his work was handled by an Islington dealer
who sold many of his paintings to American dealers, where they were found to be very popular. A companion painting framed to
the same size is available of an unnamed 38 gun frigate of 900 tons, launched in 1790 as below. For details see, https://landandseacollection.com/id940.html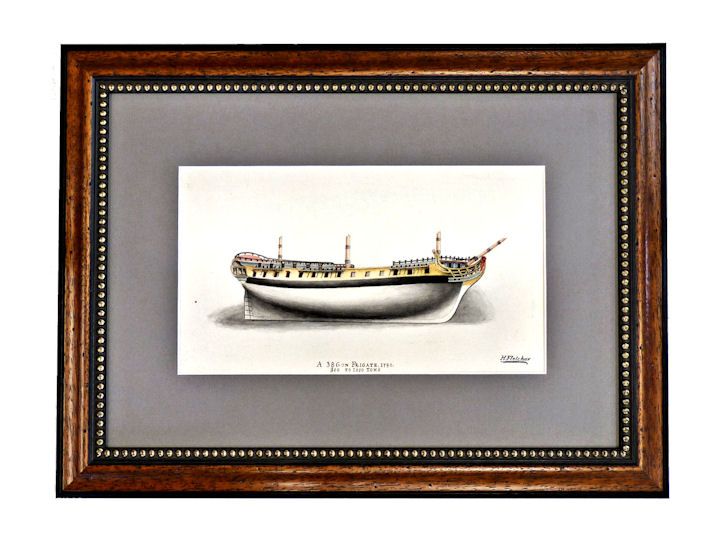 38 Gun Frigate 1790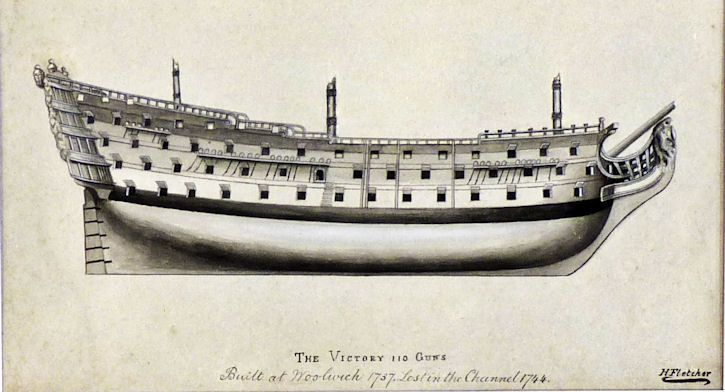 HMS Victory 110 Gun (1737)
CONDITION: The paintings have been recently framed with non glare glass  and iare ready to display.
D.Brook-Hart – Marine Painitng
D.Brook-Hart – 20th Century Marine Paining.
E.Archibald – The Dictionary of
Sea Painters of Europe.
G.Waters – The Dictionary of British Artists 1900-1950
For other ships of the same name, see List of ships named HMS Victory.
Construction:  A small number of the timbers used in the construction of
Victory were taken from the remains of the previous HMS Victory, which had caught fire and been burnt to the waterline in
February 1721 whilst having weed burned from her bottom (in a process called "breaming"). Officially a rebuild of the previous
vessel, the new Victory was built by master shipwright Joseph Allin and cost £38,239 to assemble, plus £12,652 fitting as
a flagship. Launched in 1737 she became the flagship of
the Channel Fleet under Sir John Norris following completion in 1740. She was the last British First Rate to be armed entirely
with bronze cannon. The Victory was "a high-sided ship for her
draught and this was believed to have made her leewardly and to have led to her loss". The term "leewardly" means she had
a tendency to be pushed to leeward (down wind) more than normal when sailing with the wind on a quarter or on the beam, making
her hard to keep on course. A plan of the ship reproduced in Howard and an extant contemporary model also show her with four
rows of lights (stern galleries) and three quarter galleries, one more of each than was usual for an English three-decker
in any period.
Loss of Victory: She was wrecked with the loss of her entire crew while
returning to England as the flagship of Admiral Sir John Balchen after relieving Sir Charles Hardy, who had been blockaded
in the Tagus estuary by the French Brest fleet. As the fleet reached the English Channel on 3 October 1744 it was scattered
by a large storm. At around 15:30 on 4 October, the ships accompanying Victory lost sight of her near
the Channel Islands. For over 260 years she was believed to have been wrecked during the night on Black Rock just off the
Casquets, with the loss of her entire complement. Frigates were dispatched across the English Channel to search for her where she had
last been seen wallowing on the horizon on 4 October. Eventually, Captain Thomas Grenville of HMS Falkland landed at Guernsey in the Channel
Islands to provision, and there heard from locals that wreckage and part of a topmast had washed up on the island's shores.
Further investigation proved that the wreckage had indeed come from Victory, which was believed to have run into the Casquets,
a group of rocks nearby. Other wreckage was washed up on Jersey and Alderney, whose inhabitants had heard distress
guns the night before the wreck but were unable to provide aid in the severe storm. No trace of any of the 1,150 sailors aboard
Victory was found until the wreck was discovered in 2008.
Finding of wreck: On 1 February 2009, the Associated Press reported that Odyssey Marine Exploration, of Tampa,
Florida, United States, claimed to have found the wreck in May 2008, and has recovered two of the one hundred bronze cannons.
Located in the Western Approaches between England and France, as a military wreck she legally remains the property of the
British Government under the laws of marine salvage. The wreck was found "more than 80 km (43 nm) from where anybody would have thought
it went down", according to Odyssey Marine Exploration CEO Gregg Stemm, and 100 m (330 ft) deep, meaning that the vessel had
not foundered on the Casquets as had been surmised, but lay approximately at latitude 49°42.5′ N and longitude 3°33.3′ W. The team announced their findings publicly on 2 February and stated that they were
negotiating with the British government over the wreckage. On 26 March 2009, the TV show Treasure Quest, which had followed
the company's ship Odyssey Explorer exploring several different shipwreck sites, aired two hours of footage of the Odyssey
Explorer's initial findings of the ship. The show included footage of the Odyssey Explorer's crew finding a 42 pounder cannon
that initially essentially identified the wreck as the Victory. The crew raised a 42 pounder cannon and a 12 pounder cannon. In January 2012 it was reported
that the remains of HMS Victory are to be raised from the sea bed. The wreck is to be handed over to the Maritime Heritage
Foundation, which is expected to employ Odyssey Marine Exploration to carry out the recovery. From Wikipedia, the free encyclopedia