THE ROYAL NAVY 38 GUN CLASS OF 1793
Ship Portraits by H. Fletcher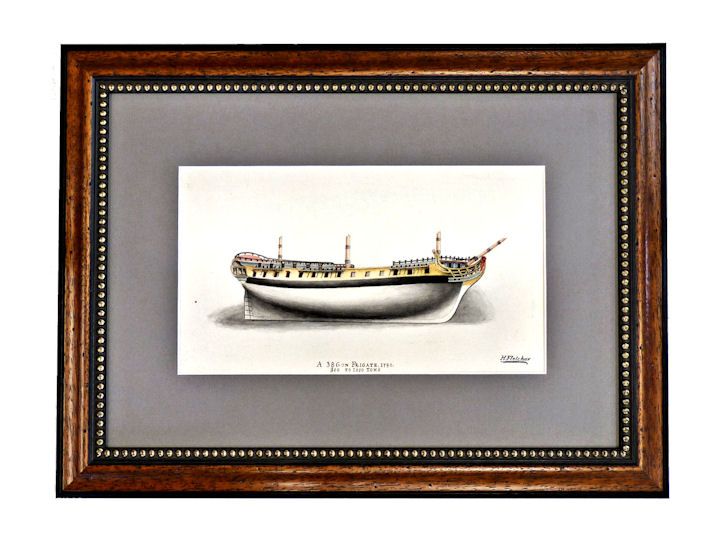 Watercolor
on paper
Signed lower right Framed
19 1/4″ L x 14 1/4″ H
Unframed 11 1/2″ x 6 1/2″
Legend:
A 38 Gun Frigate 1790, 900 to 1000 tons
Presented is an original watercolor of the Royal Navy's
38 Gun Class that spanned the years 1793 – 1815. They were about 940 to 1000 tonnes and 146 to 150 feet long. Most were copied
from French designs or were captured from the French. They carried a combination of long guns and carronades totaling 38,
and by June of 1813, there were 80 on the list, making more of this type frigate than any other. For example,
the HMS Pomone had been the French Astree, captured at the surrender
of Mauritius in The Mauritius Campaign. She had been built at Genoa to the same specifications
by Jacques-Noël Sané that had earlier been used for the frigate Virginie that, like so many other
French frigates, had also been taken prize by the Royal Navy. The Pomone was broken up in 1816. HMS Pomone
(Winfield 181) Launched 1809, Keel 52′, Breadth 127'6″, Hold 40'2″ x 12'9″, Tonnage 1093 42/94, Crew 300
 Armament:
Upper Deck twenty-eight 18-pound longs guns, Quarterdeck fourteen 32-pound carronades, Forecastle two 9-pound long guns and
two 32-pound carronades The watercolor is a atypical three quarter bow view with the vessel laying on her beam's
ends for the purpose of cleaning the bottom. The process was called careening. The artist used tones of Grey, white, and black
with a brilliant "gun" stripe in yellow which dramatizes the ships graceful lines.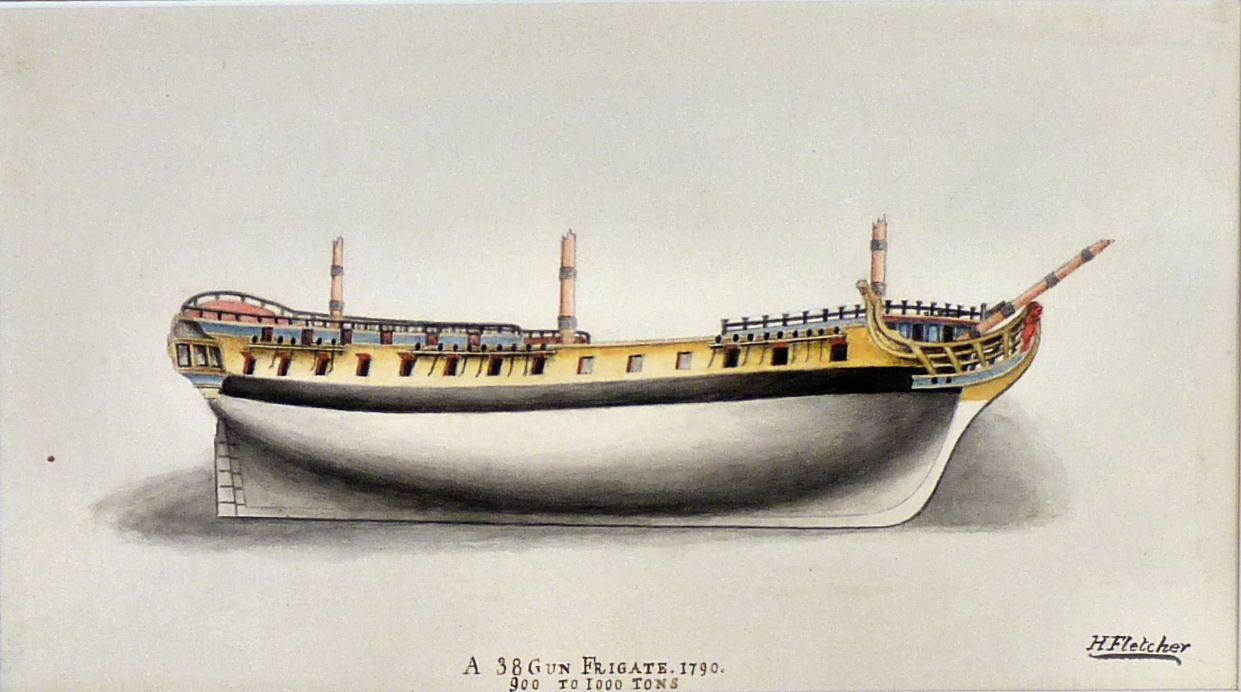 The legend gives the details of the vessel. The
painting is archival mounted and framed under non-glare, UV protected glass in distressed wood with the inner edge surrounded
by cannon balls, and with a complementary Grey matt. The painting is signed in the lower right, H. Fletcher. The artist is not listed, but is known to have done a large number of watercolor paintings, primarily of ships of the period between 1700 and 1860, which includes
some noteworthy studies of uniforms of the officer ranks. Even though he is a highly skilled artist with an intimate knowledge
of sailing warships, their armament and rigging, no formal listing of him can be found in various published works and on the
internet.
A companion painting framed to
the same size is available of the Fourth HMS Victory of 1837 is shown below. For details see, https://landandseacollection.com/id937.html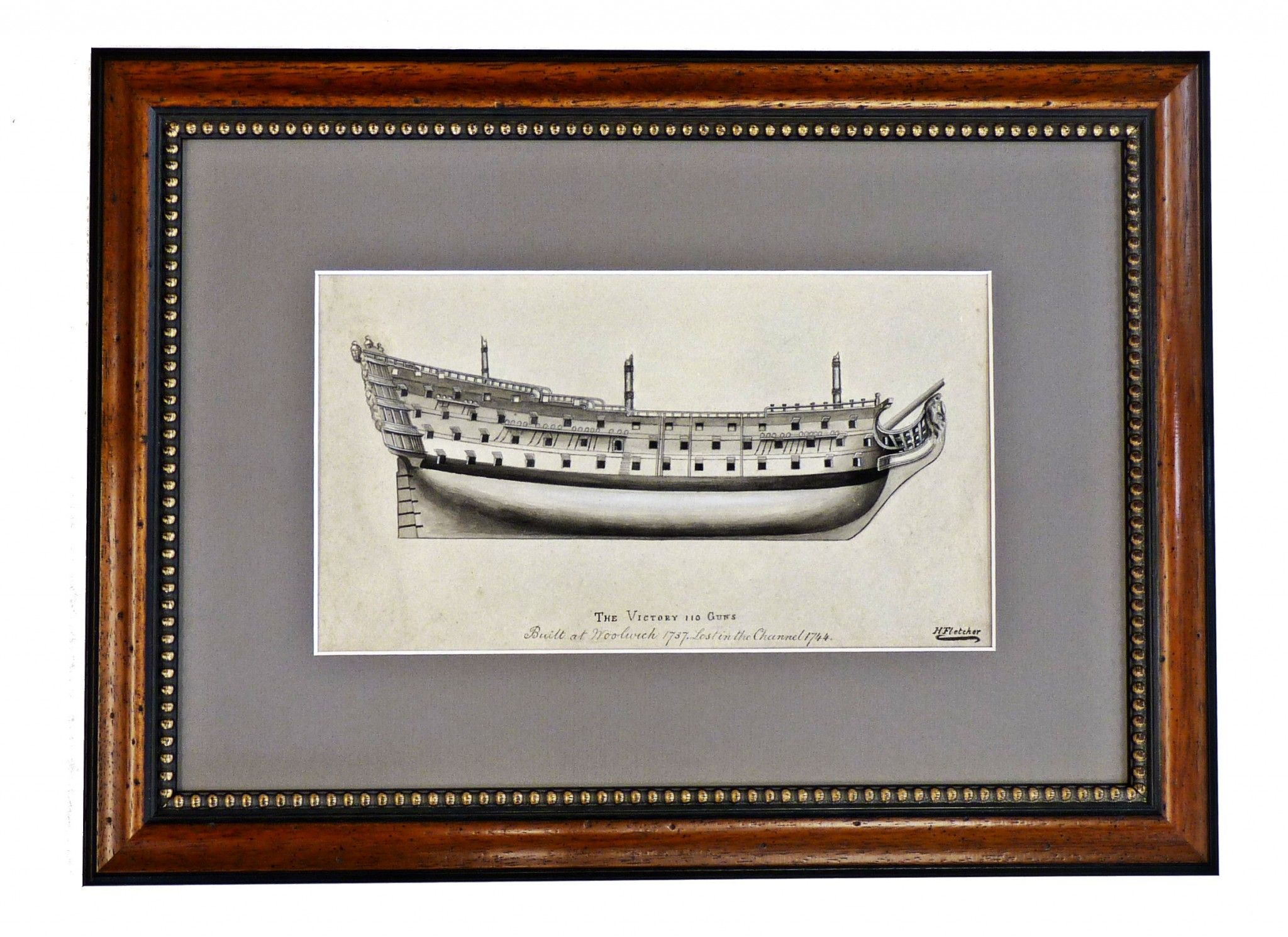 CONSERVATION & FRAMING: The paper was cleaned and stabilized
to archival standards by a conservation specialist. The matts are acid free and mounted to archival standards and covered
with non-glare, UV protected glass.
Refs:Nelson's Navy; The ships, men, and Organization, 1793 – 1815; Brian Lavery, 1994 D.Brook-Hart – Marine Painting
D.Brook-Hart – 20th Century Marine Paining.
E.Archibald – The Dictionary of Sea Painters of Europe.
G.Waters – The Dictionary
of British Artists 1900-1950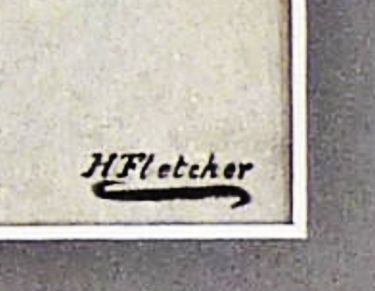 Signed
H. Fletcher