Description
Classic 19th Century Whaleboat
with Whaling Equipment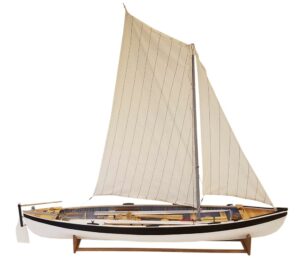 Dimensions:
37″ Lgth        34″ Ht           7 1/2″ Width
Weight:  4 lbs.
Presented is a beautiful and exceptionally well-done model of a classic 19th Century Whaleboat.  It comes fully equipped with all of the whaling tools of the era including 3 Sets of Oars in varying lengths, harpoons, buckets, line, a bosun's chair, red flag, etc.
Some whaleboats were used from whaling ships. Other whaleboats would operate from the shore. Later whaleboats usually could operate under sail or oar – American whaling crews in particular obtained better results by making their first approach to a whale under sail, then quickly unstepping the mast and using oars thereafter. There is no evidence of sails being used on whaleboats before 1825, but this soon became the preferred technique of approaching a whale before harpooning.
This whale boat model is a "one-off" handmade model done by an accomplished model maker, with all of the classic whaling gear produced in great detail.  Some of the whaling equipment included are different sizes of wood buckets, various harpoons, 6 large white oars and 4 smaller oars, buckets with line, a bosun's chair, a hatchet, and flags wrapped around a pole.
Whaleboat aboard the Charles W. Morgan at Mystic Seaport
Most whaleboats have double-ended, clinker-built hulls of light construction. The hulls were narrow and with sharp ends to achieve the best possible speed for the length of the waterline. The length was between 27 and 31 feet. The beam was just over a fifth of the length. Typically they were propelled by five oars when rowed and stepped a single removable mast when under sail. A rudder was used when under sail and a steering oar when the boat was rowed. The latter provided the maneuverability needed when closing with a harpooned whale.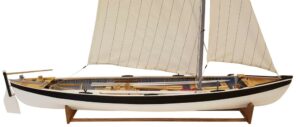 This fine model would make an exciting gift to all who appreciate and have an interest in the history of whaling
and a dramatic addition to any nautical decor.
Price:  $1100.00           Shipping:  $225.00
Total:  $1325.00