Description
Presentation Quality Model 52 Flare Gun
Kilgor Manufacturing Co. 
International Flare Signal Division 
WW  II Period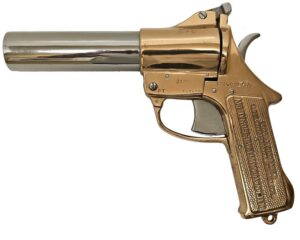 Barrel: 8 3/8″, Overall Lgth: 10 3/4″
Wt: 4 lbs, 7 oz.
Presented is a beautiful piece of life-saving hardware; a highly polished flare or signal gun by the International Flare Signal Div. of the Kilgore Mfg. Co.   This is the 37mm WWII Era International  Signal or Flare gun some collectors refer to as the "Model 52", not because it was designed in 1952, but at one time was part of the International No. 52 marine distress signal kit.
Break open operation, featuring brass and nickel construction. Embossed on both sides of the crosshatch grip in raised letters: INTERNATIONAL FLARE SIGNAL DIV,  10 3/4 inch overall length with an 8 3/8 inch barrel. Highly polished nickel and brass make for a dramatic display.   Markings along with the serial number34284, include "PT", 4-4-40, and 160,028/1/0.   Excellent overall condition. In complete working order with the firing pin still present.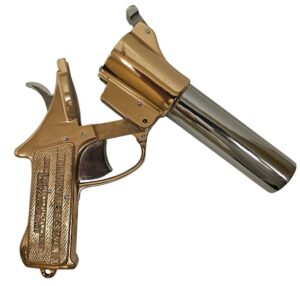 These flare guns were made for commercial and military wartime use. Imagine being stranded in a life raft, after the sinking of your ship by a U-Boat, the most valuable item in your survival kit may have been this flare gun.
Price: $900.00                       Shipping: $35.00
Total:  $935.00