Description
Half Hull Model
of
Schooner "America"

Dimensions    Backboard: 30″ x 7″ x 3/4″
 Model:  25 1/2″ x 2 3/4″ Beam x 4″ Depth
Presented is a contemporary Half Hull model of the Schooner America, arguably the most famous racing yacht in American history.  This is a brand new model in original packing.
Well known as the American entry put together by a syndicate from the New York Yacht Club, "America" won the English Royal Yacht Squadron 53-mile regatta around the Isle of Wight, August 22, 1851,  The Squadron's "One Hundred Sovereign Cup" was later renamed after the original winning yacht giving birth to the great international yacht challenge race, "The America's Cup".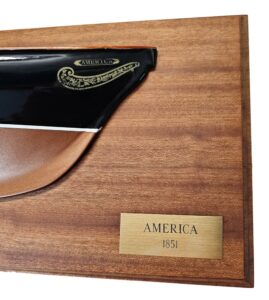 Bow and Name Plate
America was designed by James Rich Steers and George Steers (1820-1856). George Steers' pilot boat designs had a concave clipper bow with the beam (widest part of the hull) of the vessel at midships. She was designed along the lines of the pilot boat Mary Taylor, with a concave clipper bow and the beam of the vessel at midships.   The Scchooner-rigged pilot boats were among the fastest and most seaworthy of their day. They had to be seaworthy for they met inbound and outbound vessels in any kind of weather. These vessels also had to be fast, for harbor pilots competed with each other for business.

Back of Mounting Board
America was captained by Richard Brown, who was also a skilled member of the Sandy Hooks Pilots group, renowned worldwide for their expertise in manoeuvering the shoals around New York Harbor.  They were highly skilled racers as a result of impromptu races between pilots to ships in need of pilot services. Brown had sailed aboard the pilot boat Mary Taylor, designed by George Steers of whom he was a personal friend. He chose as first mate Nelson Comstock, a newcomer to yacht racing.
In 1860, she returned to the States and was sold to the Confederate States of America the same year for use as a blockade runner in the American Civil War. The yacht was renamed Memphis, but the details of her Confederate service are unclear.
In 1862, she was scuttled in a creek in north Florida.  When Union troops took the city of Jacksonville, she was raised, repaired, and renamed America by the Union and served the United States Navy on the blockade until May 1863.  She was assigned to the federal blockading squadron off Charleston and was on patrol the night of March 19, 1863, when she spotted the smoke of a blockade runner near Dewees Inlet,  South Carolina. She immediately launched colored signal flares to alert the rest of the fleet. This resulted in the loss to the confederate of its most powerful ship.   In 1863 America became a training ship at the U.S. Naval Academy.  On August 8, 1870, the Navy entered her in the America's Cup race at New York Harbor, where she finished fourth.  America remained in the Navy until 1873 when she was sold to Benjamin Butler for $5,000.
Information taken from Wikipedia
Price:  $295.00         Shipping:  $45.00
Total:  $340.00